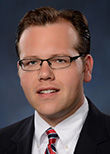 Mr. Matthew Wachter graduated from Cathedral Prep in 2003. Prep was the only high school that he considered attending after grade school. After high school, Mr. Wachter went on to attend Penn State University for college and then went on to law school at Duquesne where he earned his Juris Doctorate. He continued on to Villanova where he earned his LL.M. in taxation. He has worked in Philadelphia, New York City and now Erie, PA.
He chose to attend law school because he wanted to be in a role where he could advise and assist people as they make important life decisions. Mr. Wachter has had his law school degree for five years. It is a career path that he feels very good about.
When asked about his time attending Cathedral Prep, Mr. Wachter said, "To attend Prep was a real privilege, and I was fortunate enough to be accepted and have parents that sacrificed to send me to the school. Prep is truly a fantastic Roman Catholic high school, and I attended because of the philosophy, discipline and education that the school imparts on its students."
He reflected on many good memories from his time at Prep, including his favorite cafeteria meal, Fettuccine Alfredo, and his favorite experience. "My favorite memory from Prep was attending the "Right to Life March" in Washington D.C. with a busload of students. Fr. Scott Jabo and Fr. Larry Richards were the chaperones for the trip," Wachter said. "The trip was eye-opening, and it was inspiring to be among thousands and thousands of young students from around the country.  I will never forget Fr. Jabo and Fr. Richards saying Mass for the students on the gym floor of Georgetown Prep the morning of the march (where we had spent the night!)"
Wachter also took journalism as a class at a Prep, and he was the editor of The Rambler. He also wrote for Penn State's school newspaper, The Daily Collegian, as a staff writer. When asked how Cathedral Prep prepared him for life after high school, Wachter said Prep gave him a fantastic education and preparation for college. It also gave him the confidence of knowing how to make a sound decision and standing up for his values and beliefs. Additionally, the Prep faculty constantly challenged the students to know the difference between "right and wrong" and to act as a good man.
The brotherhood of Prep remains relevant in his life as more than a decade after graduating from Prep, Wachter says that the guys he graduated with remain his best friends.