Fiji water is known universally as "Earth's Finest Water," or so it says on the rear label.  However, due to its fineness, Fiji water is also the most luxurious of all waters. With great luxury comes great cost, and Fiji water is no exception. It is because of my socio-economic class that I am in no financial situation to indulge in the forbidden fruit of the one percent.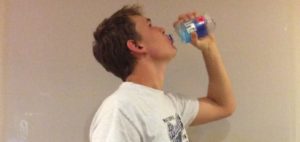 However, with my recent trip to Columbus, Ohio for a water polo tournament for Prep, I had the opportunity to stay at the upscale Crowne Plaza Columbus North, with all expenses paid for by the Cathedral Prep Athletics Department. While in my 3rd floor hotel room, I noticed a bottle of Fiji Water on the nightstand, for the uneconomical price of $3 for just 500 mL of the "Artesian" substance. Knowing someone besides myself would pick up the tab, I decided to experiment and try it.


First, as a comparison, I decided to try the finest tap water the Ohio capital city had to offer: a liquidy substance filled with hydrogen, oxygen, fluoride and countless other "healthful" ingredients added by the Columbus Department of Public Utilities. I was outrageously unimpressed as the liquid flowing out of my hotel sink's tap was filled with various contaminants and even a slightly metallic taste. I'd rather consume the historically polluted waters of Lake Erie and risk cancerous agents orally entering my body knowing my non-alcoholic drinking experience would taste far more pleasant due to past enjoyable experiences, thanks to Northwest Pennsylvania's much more evolved water cleansing facilities.


Then came the true test I have been waiting for. Searching for an available private hotel room, free of sound pollution from others, for tasting purposes, I found refuge in the sophomore room, to which I stole an extra key. I immediately went to work screwing open the lid and both the water and ingested the liquidy substance into my body for the first time.  
Verdict: I could not find anything wrong with the volcanic island water as it was free from all impurities found in the Ohio tap water that I had so regretfully consumed prior. The Fiji water had no taste, but the wetness of the smooth, clear drink was what made it live up to its name and also its expensive price tag. In addition, I felt even better about my wondrous experience knowing the water I was consuming had never been so much as touched by humans for the past infinite number of years, until it was packaged into my non-biodegradable plastic bottle and flown 9,000 miles across the world, burning hundreds of gallons of jet fuel, just so I could taste its flavorless natural goodness for a only brief second and have my body process it out as waste within eight short hours.
I determined that due to the fine and perfectly tasteless taste of the Polynesian island's primary export, my Fiji water experience was far worth its price and I would be more than willing to charge the price of another bottle to the Cathedral Prep Athletic Department again, even if it were to cost as much as $300. If you are one of the few reading this who happen to be classified as belonging in the top financial echelon of society able to consume a bottle, I highly encourage you to patron your local Wegman's, Whole Foods, or an outrageously overpriced coffee shop and chug one down for the rest of those unfortunate enough to have the funds to consume this wondrous gift of nature given, but only seemingly randomly to the remote South Pacific island nation of Fiji.