Movie Review: Collateral Beauty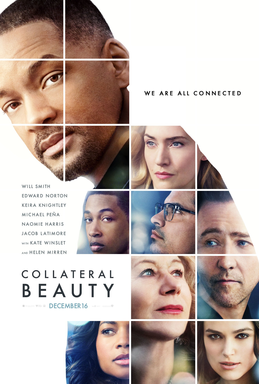 I had the chance to view the newly released movie, Collateral Beauty. In the movie, Will Smith plays Howard Inlet who is a New York advertising director. He had suffered the loss of his daughter due to a rare form of cancer when she was only six years young. Smith doesn't know why this occurred, and why his daughter was chosen to be taken away from him. Not only did Smith lose his daughter but his wife as well. The two were divorced and living their own separate lives. Seeking answers from the world, he begins to write letters to love, time, and death.
Mailing the letters, Smith begins to receive personal responses from different individuals. Co-workers and others realize the times that Smith is going through and start to ease-drop into his life. Unlocking the mailboxes of which the letters were mailed in, the individuals begin to read them and are slightly confused at first.
Some stalk him and get on his case about the letters that were written by him, which surprises Smith at first, but he hardly talks to anyone. He can't express the grief he is feeling from the loss of his daughter, or the reason why she was chosen to die. Throughout the movie, Smith attends grief meetings with others who have lost significant others, but rarely speaks.
This movie was made to show that some of the toughest times and losses can be both beautiful and meaningful.  Getting through it is the hardest, but it must be known that the person who has been lost is in a better place, without struggle or suffering. I recommend this movie to anyone who wants to fully understand the toughest parts of life, but the saddest ones as well. Nobody can ever get over the death of someone that they love, but beauty can be found when given time and thought.  If you are considering heading to the movies soon, I recommend that you spend your money on Collateral Beauty, because the film will not disappoint you.