Prep celebrates Halloween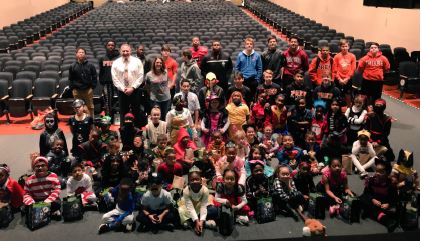 The halls are Cathedral Prep seemed just a little bit spookier than normal yesterday as the Halloween Spirt took the school by storm. A student-sponsored dress down run by SGA (Student Government Association) provided those who were looking to dress up, or dress warm, an opportunity to do so while supporting one of our Prep Family
members in need.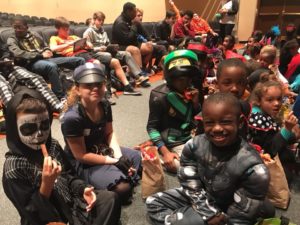 One of the most memorable parts of Halloween at Cathedral Prep happened during the middle part of second period. Giggles and laughter filled the halls as teachers handed out candy to the trick-or-treaters (students from Mother Teresa Academy).
English teacher Mr. Peightal, who was dressed as Batman, enjoyed the parade. "I enjoyed seeing the kids in their costumes with smiles on there faces."
Mother Teresa Academy is a new grade school now linked to the Prep-Villa family after the Erie Diocese closed multiple other catholic grade schools in the area.
The fun-filled day finished with the annual costume contest. Mr. Hubert, the English Department Chair, finally won this year's faculty costume contest after multiple runner up finishes as CM Punk, Jim Harbaugh and SNL character David S. Pumpkins. This year as Bret "Hitman" Hart, his pink-and-black costume featuring calf-high boots, leather jacket, and metallic visors, was enough to persuade the judges. He took home a $20 gift card for his efforts, and most importantly, bragging rights for the next year.

Mr. Hubert was more than happy to be awarded top spot among the faculty. "I am the excellence of education! I am the best there is, the best there was, and the best there ever will be!" he proclaimed, paraphrasing Hart's famous WWE catchphrases.
Prep junior Jimmy Colvin won the student costume contest for dressing as Russell from the movie Up. The students were permitted to have a Halloween dress down for $2. Several students and faculty members dressed up and wore costumes to celebrate the holiday. Students who weren't wearing costumes were showing their Halloween colors by wearing orange and black.

Junior Jarrett Ziacik was one of the students who wore a costume today. He wore a full body costume of a dragon. He stated, "I thought this was a pretty funny costume to wear and that it might give me a chance to win the costume contest." When asked about how he plans to celebrate the holiday tonight he said he just plans on handing out candy to kids in his neighborhood. You could really feel the energy of Halloween in the school today.
Mr. Nick Belluomini, who worked in the Cathedral Prep maintenance department was diagnosed with bile duct cancer. The Cathedral Prep family has rallied behind Bellumini, one of the most passionate Prep employees, during this difficult time. A nine hour surgery that removed 90% of his liver and his bike duct early in the school year has been the first big step in his recovery. With multiple other surgeries and chemotherapy looming, all the money raised is going straight to him and his family to try to ease his finical burden during this time. We ask that you please keep him and his family in your prayers.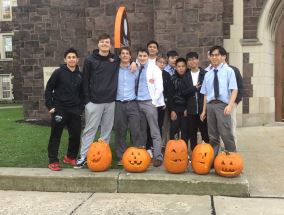 The foreign exchange students enrolled at Prep got in on the Halloween action by carving pumpkins for the first time. Miss Lion's ESL and Creative Writing classes helped our brothers from across the globe learn some American Traditions.
"It was a great bonding and cultural experience that truly expressed the brotherhood here at this school," said Miss Lion.
"It was so much fun, this is something I've never done before, and I'm glad I did," said Feifan Ye.
After the pumpkins were carved, they were then displayed outside the 9th street entrance of the school.