Prep and Villa come together for Mass at CPEC
Prep and Villa students, teachers, and administration joined together at the Cathedral Prep Event Center (CPEC) Wednesday morning to celebrate Mass as one school body. For the Class of 2014, it was bittersweet because it will be the last time they will do so. There were a lot of similar things to Masses of years past, but also a few differences as well.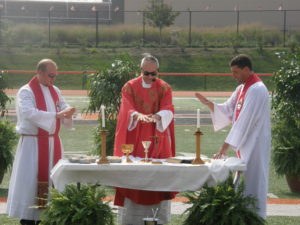 The usual sun, heat, sweat, and the occasional train screeching by made for a familiar setting. It was looking like it would be a nice day for Mass when the clouds were out in the morning, but as the students sat down, the sun came out right away.
The new things about the event may have been small, but they were nice changes nonetheless. The best change, in my opinion, were the white T-shirts with Prep and Villa's motto, "Settle for Nothing But Excellence," on the back. Although it was hot, it would have been much worse to have had to wear the usual blue button down shirt and tie, which made the T-shirts a blessing. It was also quite the spectacle to see a hundreds of people "white out" the bleachers during a Mass.
After shortened periods in the morning, students were dismissed to head to the Cathedral Prep Events Center with their class.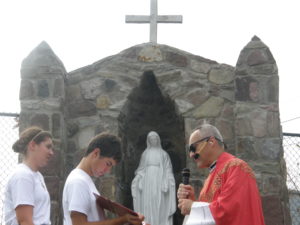 First was the walk over to the CPEC. This is really the start of the heat, sweat, and fatigue. Some ways students counter these problems are by telling playful jokes, talking about homework due for classes, or even trying to catch the nice Autumner (Autumn/Summer).
After finally arriving, students tried to find their seats ASAP and were handed a cold bottle of water (another blessing). After everyone took his or her seat, the Mass began with a reading from Prep and Villa.
Then the Mass was celebrated in the traditional Prep and Villa manner that we've all become fond of. Students joined in on the singing, standing, responses, etc., and then we came to Father Jabo's homily and the distribution of the Eucharist.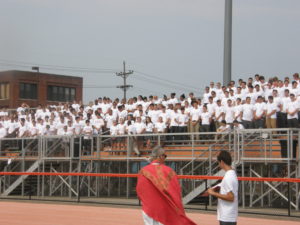 After Mass had ended, students and faculty gathered together and took a huge group photo in the middle of the field. Then everyone ate lunch and had a little free time to play a game of Sperry football on the field. Lastly, everyone walked back to school where from eighth period students were dismissed early from school.