On Friday night the Cathedral Prep football team stormed the field under the stadium lights as hundreds of fans cheered them on to victory at McDowell's Gus Anderson Field against their arch-rivals. Meanwhile some five hours away the Rambler water polo team fought in the icy waters of Cumberland Valley's High School natatorium for the title at the Screaming Eagle Water Polo Tournament. Over the weekend, they faced four different opponents in less than 24 hours battling fatigue, pain, and hunger for the title.
Prep opened the tournament against Pennridge late Friday night against a team the Ramblers haven't faced in two years. The last meeting between the two teams came in the 2015 state quarterfinals where an offensive showcase from both teams led to a mind boggling 21-20 win by Prep.
"We knew they had lost some seniors since then, but we didn't take them lightly," commented senior captain Andy Burns. "We knew they were a physical team and we had to execute."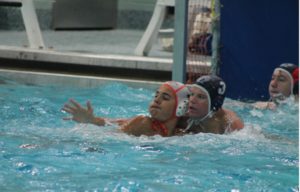 A physical first quarter led to four kick outs and Thomas Uht was rolled from the game seconds before the quarter ended on a brutality call after trying to evade a Pennridge player that was illegally grabbing him on a fast break. The physicality of the game continued, but a more grounded Prep team managed to get their feet under them and finish the game very clean with a convincing 16-8 win. Calvin Behm ran the offense, sending 10 into the back of the net while Ethan Neff had 2. Alec Thomas, Mike Rahner, Thomas Uht, and Robert Maholic each netted one as well.
The whistles from the head ref blew as the sun was coming up over the mountains in Central Pennsylvania as the Ramblers tore down the pool for possession of the ball against Souderton High School in an early morning dog fight. Minimal sleep had no effect on the Ramblers as they cruised to an easy 17-9 after four quarters of tough play. Calvin Behm had 8 goals while Mike Rahner had 3, and Thomas Uht 2 threw in. Kyle Nelson, Robert Maholic, Christian Fortin and Ethan Neff found the open goal to nab scores as well.
"This was a good first game for us," said coach Cody Miller. "We were able to exploit there defense early and put a lot of different players in and rest some of our starters for the later games,"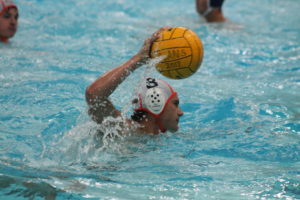 As the morning churned on, so did the water as the Rambler polo team hopped in once again with their headgear bound up around their heads prepared for one of the biggest games of the weekend. Prep stared down rival Cumberland Valley, the 2016 PIAA defending state champions who were crowned last fall after defeating Cathedral Prep in the semifinals and North Penn in the finals. Prep played a ground out offense while their defense battled hard, shutting out the state champs in the first half while Prep held a comfortable 6-0 lead.
"That shows the discipline of our team and the work we've done," said captain Thomas Uht. "We were able to shut them down and created opportunities for ourselves, giving us the advantage."
The Ramblers held onto its lead and never looked back downing Cumberland Valley 11-3. Calvin Behm, the all-time leading scorer for Prep got the ball past the goalie 6 times. Alec Thomas nabbed 2 while Mike Rahner, Kyle Nelson and Christian Fortin bettered the defense, all putting in one.
In the final game of the day, the boys splashed and dashed against Philadelphia's LaSalle College. The senior-heavy explorer team was up for a game. The physical LaSalle team got the team in foul trouble early. Three different players were one foul away from getting ejected, and a beaten Prep team sluggishly turned the ball over early keeping the game close in the first half.  Head coach Mike Doyle rallied his team to a convincing and forceful win. Calvin Behm had 10 goals in the final game.
"I had a pretty good tournament this weekend. I was able to get my hands on the ball a lot and take advantage," Calvin said.
Also adding goals were Thomas Uht, who had a hat trick. Mike Rahner, Robert Maholic & Christian Fortin all scored twice. Kyle Nelson and Robbie Lupo slammed one home each.
The Cathedral Prep water polo team went 4-0 over the course of the weekend, showing promise as the season picks up. The Ramblers, now 7-0, will head to Pittsburgh to play at North Allegheny this weekend in the Tiger Classic, and host rival McDowell this Wednesday at the David M. Hallman III Aquatics Center. JV action begins at 3:30 p.m. and the varsity boys play at 7.