Prep water polo victorious over McDowell in new pool
This past Wednesday, Sept. 14, the Cathedral Prep water polo team played McDowell in their home pool at the PVEC. This is the first time the Ramblers have played the Trojans in the new all-deep pool, and it went well for the home team.
Before the game, senior co-captains Tony Squeglia and Jacob Schmidt enjoyed their senior night, having their accomplishments read to the crowd and receiving senior gifts. After this they hopped into the pool and showed McDowell what's what.
Right off the bat Prep established its dominance when Jake Schmidt won the swim off, getting the ball in the Ramblers' possession. Schmidt continued to thrive, whipping three goals past McDowell in the first period. Juniors Calvin Behm and Thomas Uht helped out here as well with Behm scoring twice and Uht once, ending the first period with a score of Prep 6, McDowell 4.
Tony Squeglia took charge the second period with four goals. Each goal sailed past the goalie with even more speed. Tony and the whole team also played aggressively on the defensive end, barely giving the Trojans room to shoot. Calvin Behm, Jacob Schmidt, and Christian Fortin each scored a goal apiece this period, giving Prep seven goals and McDowell a measly three. At the half Prep led 13-7.
Prep did not slack off in the second half, although their comfortable lead allowed them to put in some nonstarters. McDowell did a little better in this period than in previous ones, scoring six goals, but it wasn't enough to catch up to Prep. Squeglia and Behm proved to be forces to be reckoned with, each adding two points to the board. In addition, Schmidt scored once, Fortin scored once, and sophomore Robbie Maholic scored his first goal of the game.
Going into the fourth period McDowell trailed Prep by 7, and Prep's defense would not allow them to close this sizable gap. The Ramblers scored four goals in the final period, the most exciting of which was Squeglia's backhanded shot that went right past the McDowell goalie. The other three goals were scored by Calvin Behm, Christian Fortin, and Mark Miller. When the final whistle blew the score was Prep 24, McDowell 19. The Ramblers dominated throughout the game, and this superb performance seems a good indication of a successful forthcoming season.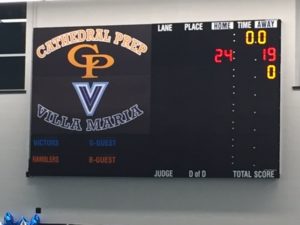 From a spectator's point of view, the Cathedral Prep water polo team seemed very strong and full of talent. Due to their apparent dominance it was surprising to learn that both captains agreed it was not the team's best game. While they did not believe the team played to its full potential, they were both satisfied with getting the win over their rival. Jake Schmidt added that the win "counts towards [their] standings in [their] conference," which is a good thing. He's looking forward to the next time they face the Trojans in the water, as he's convinced that "the outcome will not be as close as it was last night."