The End of Something Great: Rambler football team loses in state semifinals
This past Saturday, the Cathedral Prep Ramblers competed in the Class AAA semifinals in Dubois, Pennsylvania, against Bishop McDevitt. Coming into the game, Prep held the longest active winning streak at 28 straight games. The football team was only 56 seconds away on Saturday from not only adding another win to the streak but punching their ticket to return to the state finals for the second year in a row.
The semifinal game started out fast paced with each team scoring on their opening drives. Each team's offense scored at will without a punt in the first half. But, with Bishop McDevitt missing one of their extra points wide to the right, Prep held the lead going into half 28-27.
Prep received the ball to start out the second half. Just two plays into the series, Cathedral Prep scored on a long rushing touchdown. After forcing McDevitt to punt on their first series of the second half, Prep scored again to jump out to a quick 15-point lead.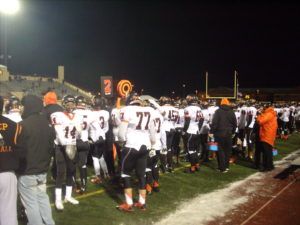 But with a quick turn of events, Bishop McDevitt jumped back into the game with a blown coverage touchdown and a pick six. Once again, McDevitt missed their extra point making the score 42-40. Prep was clinging on to their lead. In the fourth quarter, no one could score. Bishop McDevitt missed two field goals deep in Prep's territory, and the Ramblers failed to move the chains with any consistency. Then, with just 56 seconds left, on a 3rd and 16, McDevitt's quarterback dodged some tacklers and heaved the ball into the end zone. The wide receiver made a great catch in the back of the end zone. It was a heartbreaker to everyone. The game ended with taking a knee after Billy Fessler threw an interception on a desperation pass to save the game.
This loss ended a great season for a team to remember. This year's team should be proud of their accomplishments. Many people doubted that they would make it as far as they did. The Ramblers deserve all the respect in the world, and they shall receive it for their actions.