Staff Profile: Luke Costello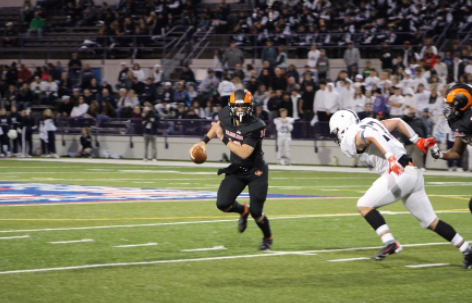 Many kids dream of one day playing on a big stage for college sports. The atmosphere on a game day for college is something many kids won't get to experience, but junior baseball and football player Luke Costello, who also serves as co-multimedia coordinator for The Rambeler, has a different story.
I sat down with Luke to talk about him and how much sports has impacted his life and his future plans with them. Luke is a very special talent as the starting quarterback and star in baseball. Luke won the starting job this year, and since then, he hasn't looked back. On the baseball side of things, Luke is committed to Wake Forest as a 3rd baseman.  
Luke's maturity and work ethic really sticks out to me. He committed at a very young age and is constantly on the move working on his skills for two sports. We also talked about what it is like, being so busy all the time playing two sports in high school and how Luke finds time for everything else.
"You just have to grind it out, and the easiest way is to get a good routine and stick with it," Luke said.
One question I wanted to ask was how sports impacted Luke as a person. Luke told me it's taught him about life and how there will be ups and downs. Sometimes you will have a good stretch and you're playing good along with the team. On the flip side of that there will be times when you're not playing good, and the team is not playing good either. He said life is the same way and you just have to find the good, work on the bad, and turn things around.