Alumni Profile: Barbie Harkins ('18)
Barbie Harkins, who graduated from Villa in 2018, joined the ranks of generations of other talented alumni from the Cathedral Prep and Villa Maria Academy campuses. She is a very creative and artistic individual, currently working at Primo Tailoring on State Street.
Attending Villa made the most sense for her due to her brothers attending Prep and her Catholic faith.
During her time at Villa, she made lifelong friends and formed connections with teachers that truly cared about her well-being. Her primary mentors were MVP teacher Mrs. Alesso, who taught her the initial sewing skills, and Social Studies teacher Mrs. Martin, who she affectionately called her "school mom."
While at Villa, she participated in National Art Honors Society, Pep Club, and Ski Club, and even sewed costumes for the theater department.
She also became immersed in the arts, particularly enjoying her textiles class taught by Mrs. Alesso in the art house, which she took in the first semester of her senior year.
Her passion and knack for the subject led to more opportunities related to fashion and design, both inside and outside of school.
"Mrs. Alesso pulled me off to the side and basically told me I'd be kind of stupid not to keep going with this," Harkins said. "So I kept doing little embroidery projects by myself. Then my dad hooked me up with Issac Baker [Menswear] and that's where I met Louis who taught me how to tailor."
For her textile final, she was tasked with creating an outfit out of recycled materials. So she constructed a dress entirely out of newspaper, which posed some unique challenges.
"It took me about a month," Barbie said. "I came up with the design on my own. It has a working zipper, which was the hardest part of the process because the dress is completely made out of paper, and was really fragile. I was really into origami at the time, so I incorporated that into the dress wherever I could."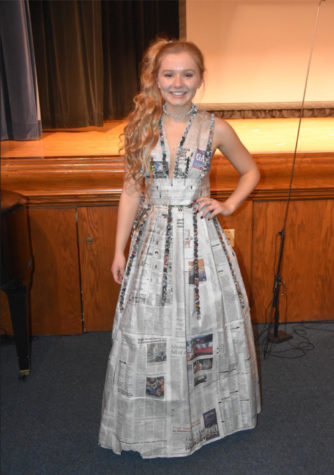 After her textiles class ended, along with the first semester, she began her own independent art class to further her sewing skills.
In her senior year she also made two prom dresses, which was a serious undertaking, especially on top of school work and end-of-the-year activities. Even after last-minute second thoughts, she still created a beautiful finished project.
"It was pretty difficult, honestly," Harkins said. "The Sunday before, I decided that I hated all of it. So I took it all apart and finished a couple of days before Prom and was still sewing bits of it the day of."
Upon graduation, Harkins attended Mercyhurst University, majoring in Fashion Merchandising and graduating in 2022.
The jump from high school to college was seamless for her because Villa prepared her to succeed in college in a way her that her peers' schools did not.
"Villa helped me get a foot in the right direction," Harkins said. "It prepared me for college. I could write papers. There were so many kids that didn't know how to do that."
After beginning her tailoring career at Isaac Baker, she eventually joined her friend Louis at his new company, Primo Tailoring. This coming April will be her fourth year with the company, and she has enjoyed every second since.
"I like how relaxed it is," she said. "Every day is something different. We do wedding dresses, prom dresses, bridesmaids' dresses, and suits. It's nice to not do the same thing every single day."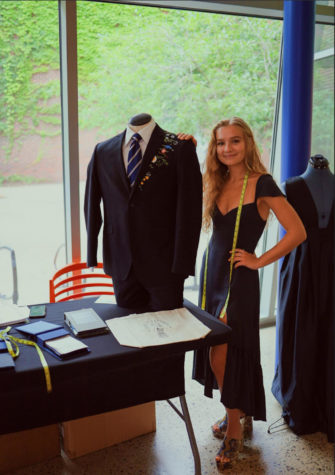 Her present successes were made possible by her alma mater, especially her experiences in her senior year.
"I learned so much during that year," Harkins said. "Without it, I don't think I would've been confident enough to apply for a job as a tailor."