Alumni Profile: Kevin Daeschner ('92)
The legacy of the Daeschner family is one that runs deep within the roots of Prep. Kevin Daeschner, son of the former German teacher, Mr. Rolf Daeschner, is a graduate of the class of 1992. He now leads a very successful life, both in terms of his profession and personal life, to which he attributes his time spent at Prep. (For the sake of clarity, Kevin will be referred to as Mr. Daeschner from this point forward.)
When Mr. Daeschner came to Prep as a freshman in 1989, he was met with some initial hardships. He came from a public middle school, and stated that the "the adjustment to an all boys Catholic High School was tough." Furthermore, he had few connections in terms of his fellow classmates, as only a few of the other boys from his middle school came to Prep with him. The choice to come to Prep was clear to Kevin, however, as he wanted to follow in his father's footsteps, who, as mentioned before, was the German teacher at Prep, as well as an alumni himself.
With the numerous challenges that coming to Prep presented came many new opportunities. Mr. Daeschner emphasized that there were many lessons that Prep had taught him over his four years. He remarked that "pride" was one of the most valuable things that Prep had instilled within him. Not just pride in his individual accomplishments, but the kind of school pride that Prep still works hard to promote today. To further expand upon that, he noted that he learned the importance of hard work and discipline, and where it can take you in life.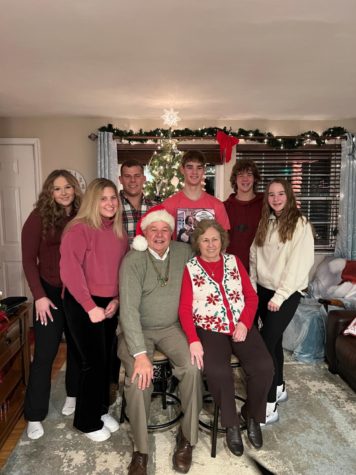 As a student, Mr. Daeschner was particularly partial towards history and German class, with history being taught by Mr. Krasinski and German by his father. Having his father as a teacher also presented challenges of its own, as some students believed that their relation was the only reason he would excel in the class. It was during his father's classes, though, that Mr. Daeschner learned some of his most valuable lessons about staying disciplined in life. He loved the class so much that he said he wished he would have taken German IV.
Aside from being academically inclined, Mr. Daeschner also participated in varsity tennis all four years at Prep. As many students know, the demand of classes and playing a sport can be extremely strenuous, hence where a person's discipline becomes pivotal. His diligence in his academics and extracurriculars paid dividends for him, however, as he was able to earn an athletic and academic scholarship to Mercyhurst University, where he would eventually meet his wife.
Mr. Daeschner is now a Vice President for PNC Investments, and he has a daughter who is carrying out his passion for tennis. His story is one that many young Prep students can look up to, as it highlights what can be achieved when you truly apply yourself to goals you are set on attaining.