Teacher Profile: Mr. MacKenzie
There is a popular saying, that with every end comes a new beginning. Earlier this year, Prep said goodbye to a beloved Theology teacher, Mr. Awungkeng. However, a shining light appeared in the darkness when Mr. John MacKenzie decided to join the Cathedral Prep staff.
Mr. Mac returned to Prep in the second semester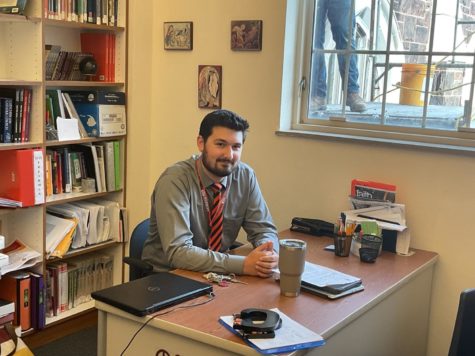 of this school year, but he first came here as a student. He was a part of the graduating class of 2018. He went on to graduate from Gannon in 2021 with a degree in secondary education and social studies. Some of his others courses included a focus on philosophy and Arabic culture.
Though he teaches Theology now, Mr. MacKenzie originally planned on becoming a history teacher. He knew he wanted to be a teacher because of his examples and mentors at Prep, and he wanted to help students like those who made an impact in his life. He claims that he immediately had an interest in the opportunity to teach theology at Prep when he became aware of it.
"It wasn't my original plan," MacKenzie said, "but the position made me remember my past experiences with Theology classes at Prep."
Mr. Mac's faith is a very important part of his life. He grew up as a part of Blessed Sacrament Parish and goes to Mass every Sunday. He is a lector at SS. Peter and Paul Byzantine Catholic Parish. Typically at Mass he is accompanied by his parents and his girlfriend.
Family is another predominant aspect of Mr. Mac's daily life. His brother Luke graduated in the Prep class of 2020. He spends lots of time with his girlfriend Halle, who he has been dating for over a year now. They enjoy going on dates and finding new places to enjoy.
Mr. MacKenzie has many recently joined the Prep football team as Special Teams coach and the Offensive Assistant to Coach Conley. He remembers how many of his biggest mentors were his coaches when he played, and wants to be a positive influence in the lives of the players.
Every good personal life has pastimes and hobbies, and Mr. Mac has many diverse and interesting ones. He is a self made outdoorsman. He spends most of his time working on his grandparents' property, as he enjoys working farmland. Mr. Mac considers himself a bit of a mechanic, working mostly on tractors and mowers. One of his unique hobbies is cutting and seasoning firewood. He also loves hunting and fishing.
"I'm always shooting or catching something," he said.
Mr. MacKenzie is a Man of Prep through and through, who loves his hometown and spending time in it and giving back to the community. His faith is an inspiration to all his students, who look forward to many more fun class discussions