Seniors travel to Peek n' Peak for senior retreat
This past Tuesday, the seniors of Cathedral Prep went to Peek n' Peak for the senior class retreat. During the retreat the seniors had the opportunity to go to confession with Fr. Jason and Fr. David, play corn-hole and other outdoor activities like throwing around the football or watching fellow senior James Kolakowski hitting the famous "Whip" dance move. They were also treated to a deliciously prepared pizza (although, unfortunately, not everyone got pizza), and finally got to spend time on the new Ropes Course.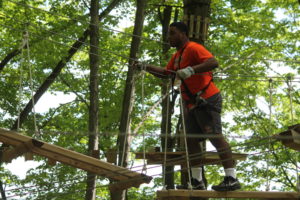 The Ropes Course was definitely the best activity of the day, even for those who fell. There were four different courses that were open for the seniors to choose from, each one being tougher than the last. The consensus was that the Blue course was both the most difficult and the most fun because of the two zip-lines that were a part of the course.
Senior Casey Rapoza said, "This retreat was probably the best one we had. [I'm] mad I didn't get any pizza though."
"It definitely beat going to Camp Notre Dame. The Ropes Course was amazing, and watching everybody go through the course was a great time," said fellow senior Pat McCormick.
The day concluded with Mass organized by Fr. Jason, who gave a great homily about brotherhood and staying together during the years after graduating. The seniors definitely got go out with a bang in this retreat and would like to express their gratitude to the retreat organizers.