Meet Fr. Jason Feigh, Prep's new campus minister
Cathedral Prep has acquired a new permanent on campus priest and campus minister for the 2013-14 school year, Fr. Jason Feigh is taking over Fr. Bill Barron's role as the head of campus ministry. He is also available to talk to anyone about any personal problems. Fr. Jason was kind enough to sit down for an interview to allow the Prep community to find out more about him.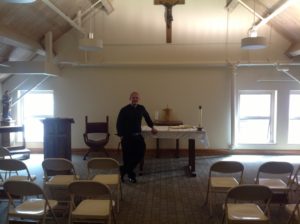 Q: What brought you to Cathedral Prep?
A: [Bishop Persico] gave me the opportunity, and I've always been interested in education.
Q: What called you to become a priest?
A: Something inside me wanted to be a priest since I was a child, and as I grew older it became more powerful, so after high school I went to the seminary.
Q: How do you feel about your role in campus ministry?
A: Nervous. I have big shoes to fill from Father Bill.
Q: Why should students join campus ministry?
A: To find themselves and God.
Q: What are your plans for campus ministry in the future?
A: I don't have any major plans right now. I'm going to let Jesus take the wheel and see where he takes us.