Student Profile: Chris Muldrew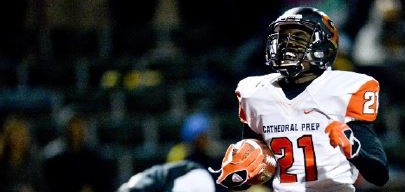 Chris Muldrew, a senior at Cathedral Prep, lives in Erie, Pa., and attended Central Tech for his freshman year before transferring to Prep. He decided it was the best decision for him and his future due to the rigorous academics and also the highly prestigious athletic program.
I recently sat down with Chris to discuss how he believes his decision to come to Prep will affect his future. When asked "Why did you transfer to Prep?" Chris confidently answered, "The academics are the best around and they [are] dominant in every sport. I don't know why anyone would not want to attend such a great school." Chris then elaborated on why Prep will help him in college and his future by adding, "The academics were tough, and
they made me work extra hard just to get by. In the real world nothing is given, and thanks to Cathedral Prep I do not expect anything given to me without some hard work. I feel Prep brought out the best of me because while you are there nothing else seems to matter. Everyone in the school is a family, and the fact there are no girls makes it so easy to stay focused on our studies."
When asked about what exactly he wants to do, Chris replied, "I don't have a clear front-runner currently for college, but I have always been a huge fan of Ohio State University. I enjoy marketing because I like to be in charge and adapt to the wants of the customers. Football is something that will affect my decision as well because I have played my entire life and still have a dream to chase of playing in the NFL."
Chris has an ultimate goal of running a business for youth football players to help them reach their goals. He also wants to be behind the scenes of whatever company wants him and hopes to run the marketing strategies. Having a family is something Chris sees in his future but not until he is in the position to support all those he considers family.