Is Groundhog Day becoming just another forgotten holiday?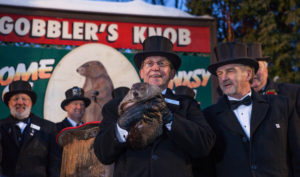 Everyone remembers going to school as a kid, walking into your classroom and seeing the television turned to ABC as the crowds of people await to see if there would be six more weeks of winter or an early spring. They were, of course, not watching The Weather Channel but rather waiting for a groundhog to offer his prognostication, as people from all over come to Punxsutawney, Pa., see the beloved Punxsutawney Phil appear from his hole to tell us what to expect of the weather for the next six weeks. Perhaps the most interesting groundhog in the world, Phil has become an American icon. People from all over the country come to visit Phil every year, but is he becoming less and less popular each year?
The idea of Groundhog Day comes from folklore saying if it is cloudy when the groundhog emerges from its burrow on this day, then spring will begin early, but if it is sunny the groundhog will supposedly see its shadow and retreat back into its burrow, and winter weather will persist for six more weeks. Groundhog Day was adopted in the U.S. in 1887, and was made popular by Clymer H. Freas, the first to promote Phil as the official groundhog meteorologist. Since then, on February 2nd of every year, people gather in Punxsutawney to carry on the tradition. Cathedral Prep senior, Jeremy Hill, says of Groundhog Day, "It is a great morale booster for the people who have to deal with snow on a regular basis, but considering Phil is usually wrong, it's kind of a joke."
Overall, Groundhog Day is becoming less and less appreciated by the older demographic of people as they realize that Phil isn't always right. Sadly, his overall accuracy rate since 1969 is only 36 percent. However, as long as kids are willing to believe the tales of the tooth fairy and Easter bunny, Phil will likely stay in business.
Update: Phil's prediction for 2016 is in. He did not see his shadow, which means Phil is predicting an early spring!