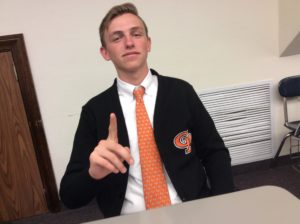 On Tuesday, Feb. 9, several Prep students claimed their official Cathedral Prep cardigans. The cardigans themselves are very stylish, lending themselves to the school's "preppy" look. They were made available in black or white with the orange CP logo on the left breast and two small pockets near the bottom for optimal hand-warming ability. Students signed up to receive the cardigans weeks ago. Money was due about a week after that, and they were delivered just days ago.
Picking up one's cardigan was a very simple process. All the cardigans were placed in Room 210 organized according to size. When I went to pick up mine, Class of 2017 President William Lewis was there to help me find the perfect cardigan for me.

Will Lewis was nothing but satisfied with the cardigan sale. He stated that he chose to sell cardigans "not only as a mode to earn some coin for [the junior] class, but also to bring back a wearable piece of tradition." Lewis and his student cabinet fortunately accomplished most of their class's fundraising last year, so they were capable of doing a fundraiser to enrich the lives of the students as opposed to just making money. Lewis reiterated his satisfaction, saying, "Seeing the cardigans being worn around school is something really special because it shows the hard work that we put into the fundraiser really translating into a visual representation of success, and I think that's pretty cool."
Cardigans will be sold again next week, starting Feb. 23 during both lunches for those students who failed to purchase one during the first selling spree.