Tuesday morning as students strolled into the hallways of Cathedral Prep they noticed something was missing. On all of the signs in the hallway one letter was taped over and x'd out. That letter was the letter "M." This week is also the biggest week for the Cathedral Prep football team. This week is McDowell week. Coincidence? Unlikely.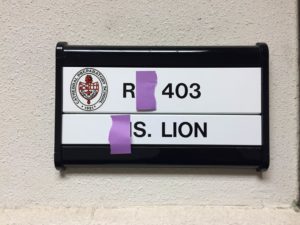 The biggest rivals in the state will go head-to-head tonight at Veterans Stadium. Through some investigative research The Rambler has concluded that the game has something to do with the vanishing letter M. At Prep, students dislike anything that has to do with that rival school from Millcreek, even the letter M.
However, it is unclear exactly who has been covering up this letter. Rumors around the school have been spreading and some suspected The Rambler staff was behind this scheme. One student has a different story. Prep senior Peter Bloomstine mentioned he saw a group of masked men running through the halls covering up the letters. "The men were wearing ski masks and black jumpsuits," he said.
One McDowell student thought it would be funny to use technology to digitally re-insert the missing letters back onto photos of the Prep auditorium signs. She used her finger to draw in the missing Ms in blue and posted the edited image on Twitter. Prep senior Brian Buseck was among the many Ramblers who were not amused. "That tweet was both not funny and disrespectful," he said said. "She knew that she was stirring up controversy, but she went and did it anyway. Only bad things can come from a tweet like that."
From the field to the alphabet, the Prep-McDowell rivalry remains strong. Perhaps the missing letter M will re-appear back at Prep once the Ramblers get the W against the Trojans.