Prep prepares to welcome junior Ian Malesiewski back to school Monday
Ian Malesiewski, an inspiration to many, is returning to school at Cathedral Prep on Monday, Nov. 7. The whole community is excited to welcome Ian back to school, and he is excited to be back with his brothers as well. Nick Wisinski, a close friend and teammate of Ian's said, "I think everyone is excited to see him and finally have Ian, our brother, back."
Ian was injured early in the summer at a wrestling tournament. The injury was severe enough to paralyze him from the neck down. Fortunately, after intense therapy, Ian has been able to move his hands and arms a little bit. This goes to show how fierce Ian is, and that when he puts his mind to something he can do it. If there were anybody that could fight this battle, it is Ian.
Ian has not only inspired the Cathedral Prep community but everyone who knows about him. The Prep vs. McDowell football game this year was centered around Ian. Both cheering sections, Prep and McDowell, wore green (for spinal cord injury awareness) in support of Ian. Ian also surprised the Prep football team before the game. This brought tears to many people's eyes and the football team knew they had to go out and get the win for him.  After asking Nick Wisinski what it was like to play in this game he said, "It brought a whole new level of intensity and emotion to the game." To see the whole community welcome him back for the game was great, but many cannot wait to see what it will be like when he comes back to school Monday.
"Though it might sound crazy, he is a grade under me, but I still looked up to him," said football teammate Kyle Mitchell. This just goes to show the impact that Ian has on many. The Prep community wants to help every step of the way and welcoming him back is a huge part of it.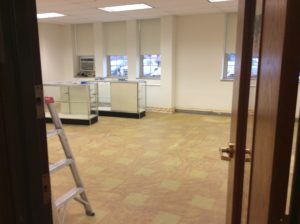 Mr. Smith sent out an email on Wednesday, Nov. 2, confirming Ian will be coming back to Prep on Monday. There is even a room labeled "Ian's room" right across from the main office. He will take all of his classes with his Cathedral Prep brothers in that classroom, which has accommodations for him. All of his teachers and classes will meet him there for each class. Prep really wants to make sure Ian can come back and be happy, and it all starts on Monday with his return to school.