Jerry Roberts 2016 Season Review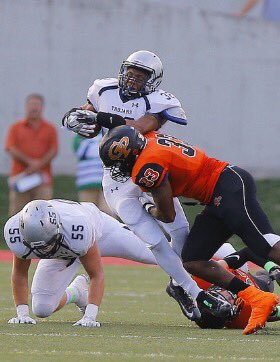 Senior linebacker Jerry Roberts was a key component on the Rambler defense during Cathedral Prep's state championship run this season. Jerry plays with intense determination, and his passion for the game is unmatched. In my mind, he is an NFL bound player, but I'll get into my reasons for that later. Here are the stats to prove his potential and current talent: 93 total tackles, 2 interceptions, 60 solo tackles, a spot on the 2017 team PA, 2x first team all state, 2 touchdowns, and 11 Division I offers.
Jerry has committed to play Division I football at Bowling Green State University in the fall of 2017. However, I believe his career won't end after college. I say this because of his size, passion for the game, and coachability.
Jerry is 6″2′, 232 lbs and runs a 4.72 40-yard dash after running 5.0 during his junior year. This is exactly the type of kid that develops into a beast in college. After lifting, speed training and some minutes as an underclassman in college he could be one of the next best linebackers in the country. Secondly, he has passion for the game. The love Jerry has for football will forever give him the energy and hustle it takes to be great.
"I will do whatever it takes to make it to the next level," he said. This determination is key to consistently getting better. Jerry explained to me that every successful football player at all levels of the sport has to be coachable. However, Jerry feels he stands out from a lot of other Division I recruits. He explained, "My passion drives me all the time, and I also get better from being able to improve from constructive criticism."
Lastly, Jerry has a good head on his shoulders, which is a stat that can't be recorded. A player having their priorities straight can make or break a football career. So often athletes go to college, party too hard, lose track of priorities or commitments, and are no longer able to play. Jerry credits his good behavior to his upbringing by his father. He also sees the greater picture of football.
"I see the future of myself and where I want to be in my head," he said. "This drives me to act straight in the present to keep on improving."
Jerry is a great football player and an even better person. I can say on behalf of myself that the The Rambler wishes Jerry the best of luck in college, and we expect great things.