Entrepreneurial students pitch ideas to local investors
Most students at Prep have watched or at least heard of the television show Shark Tank. On the program, entrepreneurs pitch business ideas to a panel of investors, and if an investor likes the potential investment opportunity, they invest. Average Prep students have admired the show for some time, but they never imagined that they would be able to participate in a similar type of pitch, at least not until they entered the professional world as adults.
According to Mr. Bhatti, "[My entrepreneurship] class gave their 'pitch' to panelists who are entrepreneurs in the Erie area. The panelists included Cathedral Prep alumni Alex Brychinski, Carl Nicolia, Bill Scholz and Prep-Villa board member Owen McCormick, local inventors Josh Layne and Max Weber, as well as Innovation Collaborative executive director Beth Zimmer."
The products presented by Prep students included a pen stylus, a hunting app called Predator, a baseball tee for perfecting your swing, headphones, cup holders, a wash rag, and a dish-washing cabinet. Mr. Bhatti is reportedly very proud of his students in how they handled themselves, describing them as having delivered their presentations in a "professional, engaging manner," which was very well received by the panelists. Three of the products presented are receiving serious consideration for possible investment opportunities.

One such product is Lucian Cuzzola and partner Kyle Burger's hunting app, cleverly named Predator. The partners realized that there were no quality hunting apps on the market and wanted to make a superior one. Once developed, Predator will include a trail log, route tracker, in-stand logging, GPS Weather, hunt log comparison (with other hunters on the app), and various safety features. They have several ideas for potential updates, including a wake up alarm, and State Wildlife informational updates. They hope to have the app developed and ready to launch by next September. It will be free for the first month to new users, and if a user refers another person to the app they get three months free.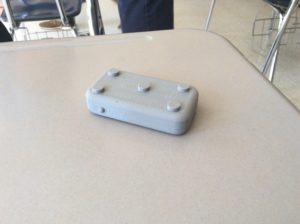 Fellow senior Will McCormick is also having his product looked at by potential investors. McCormick's idea, Señor Scrubby, was dreamt up to eliminate wasted shower gel. Basically, Señor Scrubby consists of a sponge attached to a cartridge. The cartridge is filled with shower gel, and then the sponge is attached. The shower gel flows directly out of the cartridge through the sponge, so no shower gel gets wasted by falling on the floor. A prototype has been 3-D printed.
Ethan Sacco's product, Progression, is a baseball tee designed to perfect an athlete's swing. Their slogan is "Why practice 1,000 times the wrong way when you can be doing it right from the very start?" The angle of the tee can be adjusted for the athlete to find the perfect swing.
Overall, Prep's shark tank presentations were a success, not only for those looking at investments, but all students who gained experience developing and presenting products. Those with possible investors are looking at starting their own business by their freshmen year of college or before, which looks great on a resume. This type of innovation is what Prep is all about.