Senior's wish to bring dog to school granted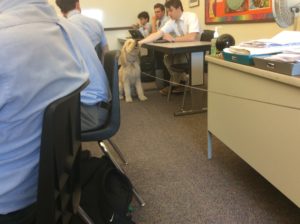 After a long wait, senior Brian Buseck was finally able to bring his dog into school. A long while back, during Catholic Schools Week, Prep was granting wishes that students made. Many wishes have been granted since, such as Collin Irwin getting a big hug from legendary math teacher and assistant football coach Mr. Czytuck. The one wish everyone was waiting for though was for Brian to bring in his dog to school. His dog Tucker is a very cute golden doodle.
Ever since Brian was little he has been a huge fan of dogs. He says that they are "very cute" and "put him in a happy mood." Sometimes he even just looks up pictures on google to put himself in a good mood. I think this is how everybody felt May 22, 2017, when Brian brought his dog in.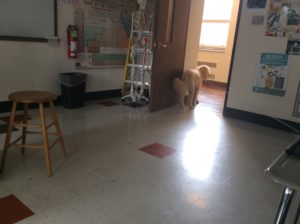 All day Tucker has just been going from class to class with Brian as if he were a student at Cathedral Prep. Because Tucker is 11 years old and a dog, he sadly he cannot attend Prep full time. Maybe in a couple of years Prep will open a school for dogs or at least allow more dogs to visit.

Many students agree the presence of more dogs would make them more comfortable and happy. Tucker, or "The Tuckster," as he is affectionately know, has been a really good boy all day. He usually just sits next to Brian and gets petted by a few people. He also has been able to go outside a couple of times to go to the bathroom.
All in all, Tucker was well-liked at Prep and made the students he encountered happy with a few exceptions, such as fellow senior Roman Zegarelli, who said he wanted to "throw hands with this dog."
Brian responded, "Please do not hit my dog."
Thankfully, no one did, and Tucker finished out his day at Cathedral Prep peacefully after having made one of the seniors' final days a little brighter.