Musical Review: Hamilton Chicago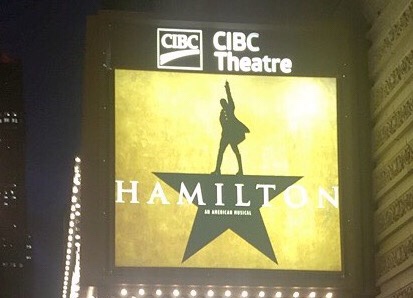 Hamilton is a broadway musical created by Lin Manuel Miranda about founding father Alexander Hamilton. This show made its broadway debut in August 2015 in New York City with massive success. Critics loved the combination of history and rap music as a way to bring together various types of audiences. The show continued to perform in packed audiences and tickets were sold 6 months in advance. As a result of its massive popularity, the show extended their operations to the CIBC theater in Chicago, Illinois. I had the pleasure of traveling to Chicago and watching the show live.
Ever since I discovered the soundtrack of Hamilton in 2015, I was immediately hooked. This was a completely different type of rap than the mainstream. Each paragraph has meaning to the overall story. An avid listener has no choice but to listen to the entire soundtrack and simply marvel in its glory. Sadly, it seemed that all of the U.S. had jumped on the Hamilton train. Tickets to the show in New York rose to expensive heights and were never available. Two years later, my Mom told me how she knew the chief of operations at the new site of Hamilton in Chicago. It seemed like a no-brainer to jump on this opportunity.
On November 22, I was finally on my way to see Hamilton in Chicago. When we arrived to the CIBC theater, I was extremely excited. The only thing that made me apprehensive for the show was whether or not this new cast could live up to fabulousness of the original cast in New York.
As soon as the curtain came up and the first song started, it was made clear that this show would most definitely exceed my expectations. At the final song, I sat there with my mind blown thinking this was the greatest show I have ever seen. I don't cry during shows or movies, but everyone else in my family does. Let's just say, my mom was gushing tears by the end of the first act.
Throughout the show, every single scene is followed by another musical number that works in one fluid motion. Rapping serves as the dialogue to the story, engaging the audience with lyrics that are both powerful yet simple. After the first act, my mom told me how she hated rap music, but "absolutely loved this." That is a testament to the show's ability to break age barriers and give everyone an impactful history lesson.
That is essentially the purpose of the show, to provide a history lesson about Alexander Hamilton, a founding father whose impact often goes forgotten. Simply listening to the soundtrack gave me an introduction, explaining his contribution to forming a national bank and why he's on the five dollar bill. My dad had no clue who Alexander Hamilton was, thinking he was a president. A main criticism of the show is that you need to know history to be able to enjoy it. Quite the contrary, a spectator simply needs to express an interest in learning about it. One could know very little about American history, and Hamilton could be the show that provides a framework to spark that interest.
Hamilton features a small cast of established actors who make the show come alive. Many actors play multiple parts, which adds to the impressiveness of the ability to cast dynamic actors. It is quite surreal to watch Chris De Sean Lee rap at insane speeds as French revolutionist Lafayette and then rap battle with Hamilton as Thomas Jefferson. This is a show that requires a well-versed ensemble. They are the glue that add background and context to the play's overall plot.
Overall, watching Hamilton live was a surreal experience that had me mesmerized throughout. Although tickets are expensive, the show is well worth it. Hamilton is a once in a lifetime experience, a marvel of a show that makes history quite enjoyable.