Rambler Repeat: Prep football wins second straight state title
"I think they are probably the best team in the state in any class," said Thomas Jefferson's head coach Bill Cherpak. "When you lose to a better team, what can you say [but] they were the better team." Cooper Lutz, star Berks Catholic running back, printed out a picture of Matt Bauer hoisting the state championship trophy in the air last season and hung it over his bed so he could remind himself that the trophy belongs to him this year. Imhotep Charter's head coach, Nick Lincoln, said, "I think we're going in as the underdog, but we've faced some adversity, which might give us an advantage." At each stage of this unheralded playoff run, Prep has left their critics speechless. "We had a target on our backs all year and we were made well aware of that," said senior Terry Roberts.
The Ramblers left Hershey Park undefeated…again. In fact, this senior class has more state championship titles than overall losses. Led by the senior core of Joe Mischler, Matt Bauer, Terry Roberts, Juice Scruggs, and Tyler Oedekoven, this team made much more than just lifelong memories and an honorable school legacy, they made history.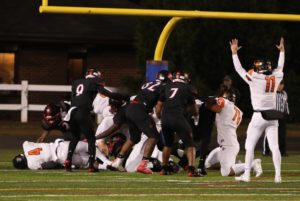 With the 12th man making themselves known in Hershey, the Ramblers' cheering section was well alive for the state championship. Despite the bitter cold weather, students, teachers, faculty, families, and alumni made sure to support Prep and got out to the biggest game of the season. Buses of Prep and Villa students and teachers flooded the gates and made their way inside the stadium. The taste of victory suddenly was in reach, and the Ramblers were licking their chops.
They were up against a daunting task, however. Imhotep boasts three of the top five 2019 recruits in the state of Pennsylvania, including the #1 player Omar Speights, along with Tykee Smith, and Yusuf Terry, according to 247sports. They are a perennial Philadelphia powerhouse in both football and basketball. The 40-3 beat down of the Ramblers that Imhotep was able to enjoy two seasons ago would long be short-lived. But they will undoubtedly be a force for years to come.
Imhotep's star Penn State commit, Isheem Young, was ineligible to play due to legal issues he ran into. However, Prep also was without star defensive back/wide receiver Navy commit Anthony Bolden, co-team captain defensive back/wide receiver Henry Fessler, and another co-team captain Ian Malesiewski due to injuries. Both teams suffered major losses and were looking for production elsewhere. "Like I said before, the kids have to take a next-man-up approach, rally around each other, and play as hard as possible." said Lincoln.
Prep lost the toss and was forced to receive the opening kick. Neither team was able to generate a score on their first possession. That all changed after Mischler hooked up with Terry Roberts for 64 yards on a big catch and run. Then, junior Billy Lucas rumbled his way into the end zone from 2 yards out to put the Ramblers on the board first. Lucas' score came just a week after exploding for 268 rushing yards and 5 touchdowns to break a school record.
Imhotep gained some momentum in the second quarter playing bully-ball in their run dominant offense. Tykee Smith finished off a solid drive for the Panthers to even the score up. After an onside kick recovery, it was Carl Jones who punched it in from 5 yards out and gave Imhotep their first lead of the night. With 55 seconds remaining in the first half, the Ramblers answered back with a 17-yard strike from Mischler to Roberts in the end zone. Shortly after a fumble recovery by Matty Bo Bauer, Anthony Lupo nailed a 37-yard field goal as time expired in the second quarter.
It was a back-and-forth affair through the first 24 minutes of action, and both sides knew that much still had to be done to walk out as champions. Fresh out of the half, it was the Ramblers who recovered the onside kick and quickly converted it into 7 points thanks to another Lucas run. In the midst of another long, tiring Imhotep drive, Kareem Carson recovered a fumble to give possession back to Prep. Mischler ran it in himself after finding Oedekoven for a 74-yard bomb to set it up in the red zone.
Sutton Christian found the end zone connecting with his big receiver Yusuf Terry to open up the last quarter of play. As the Ramblers made their way down the field, it was Billy Lucas yet again with a 6-yard touchdown to seal the perfect season for Cathedral Prep. The final score was 38-28 with the Ramblers showing why they are the best in the state. Lucas led the way with 99 yards and 3 touchdowns on the ground while Mischler completed 8 of 13 passes for 199 yards with both a passing and running score. Terry Roberts broke the 100-yard mark receiving, finding the end zone as well. On defense Hunter Orlando had Prep's only registered sack and Orlando also tied with Bauer for the game high in total tackles. It seemed like Prep was in control from start to finish and never lost their poise or confidence. Although this year's team may be the most star-laden in school history, many role players and lesser known individuals really stepped up and were stars in their own right on that special Thursday night in Hershey. Bauer spoke on the reasoning behind that and said, "We were one unit together as brothers, which allowed our dreams to come true."
Cathedral Prep was featured on Sunday Night Football in Pittsburgh and also rounded out the top 25 list in the High School Football America Poll.
Many wonder what makes this year's team different from the great ones in years past. After facing Prep in the first round, coach Bill Cherpak seems to have the answer, back-to-back Pennsylvania 4A player of the year and Ohio University recruit Joe Mischler. "He's the difference;there's no doubt. He's such a great player. Without him, that's a much, much different team. He's really that good. When we had him tied up, he ran for it. We had coverage, he ran it. We tried to spy him, and that didn't work. He's just a really, really good quarterback."
Along with Mischler, this year's Ramblers featured five other all-state players including Notre Dame-bound linebacker Matty Bo Bauer, Iowa-bound defensive back Terry Roberts, record breaking wide receiver Tyler Oedekoven, Penn State-bound offensive lineman Juicy Scruggs, and running back/linebacker/defensive back Billy Lucas was included as the lone junior. Bauer also was named recognized on the USA Today All-USA team.
"The past four years of playing football at Cathedral Prep have exceeded any and all expectations. Growing up I always dreamed of being a Rambler, more specifically a Rambler football player. Never once did I expect things to end up in the picture perfect way that they have. What this team has accomplished over the past few years is something no other Prep football team is able to say. It's forever history, and that is something to be proud of. The friendships and bonds I have made through four short years of Prep football is remarkable. It's truly something great to be apart of. Unfortunately, words cannot describe how much it means to me," said Joe.
Coach Mike Mischler returned to Erie with his 4th state championship and his second consecutive. Mischler has built a consistent winner out of the program and has a championshi caliber staff to go along with him. "To be able to play for him is an experience I wish I could relive, even if it were just one more game. He's been my coach, my idol, my dad and my best friend, and I cherish every moment with him, not just on the field but off as well," said Joe. It is obvious what Coach Mischler means to not only the program but also to the school and community.
Prep football has made Erie proud yet again. They have made Western Pennsylvania proud. This team has singlehandedly put Erie football back on the map as a serious contender statewide. They did something twice that people couldn't imagine anyone from this area doing once. An Erie football team went head-to-head with a Philadelphia powerhouse and took them down. A reference to David and Goliath has been used here before, but I wouldn't bet against those boys over on West 9th Street regardless of who they're matched up against. Prep should no longer be viewed as the "underdog" to anyone. So, perhaps it's time to rethink who's really David and who's really Goliath.