2014 Burger King Classic Tips Off Tonight

The distraction provided by the gym to students of Cathedral Prep due to gym class shenanigans will be taken to new heights today, Friday, Jan. 17, thanks to the arrival of three out of town basketball teams with talent and hype surrounding the players that people around here simply aren't accustomed to. The 31st annual Burger King Classic (formerly the McDonald's Classic) will tip off at 7 p.m. at Gannon's Hammermill Center tonight. Annually toted as the nation's best four team tournament (via maxpreps.com), this year's tournament comes with much excitement and anticipation due to the plethora of division one talent found throughout the lineup.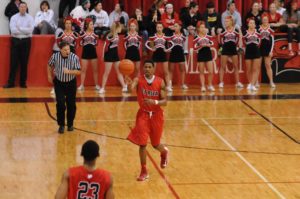 St. Rita of Cascia (Chicago), Villa-Angela St. Joseph (Cleveland), and Archbishop Carroll (Philadelphia) will all make the trip to Erie for the annual tournament. All three of these schools are Catholic institutions, and St. Rita's is an all male high school. The tournament will tip off with St. Rita's facing off against Villa-Angelo at 7 p.m. and will be followed at 8:30 by host Cathedral Prep taking on Archbishop Carroll. While Cathedral Prep has won the tournament in the past, proceeding on to the championship game Saturday night will prove to be difficult, as Archbishop Carroll is last year's AAA state runner up and looks to be able to, again, make a run to the title game come March.
Again, the Burger King Classic is regularly touted, both by national sites and advocates within the Cathedral Prep community, as the best four team tournament in the nation. Some feel as if this may be to generate interest, and I'm sure it is at least in some part, but there is no doubt that this is an exceptional tournament, both in regards to the teams that play in it and the way in which it is orchestrated.


The teams that play in the tournament have come and continue to come from all over the country. While certainly a large percentage of the teams that have made the trip to Erie have been from Pennsylvania, New York, and Ohio, teams have come from states not in the Mid-Atlantic region of the country, including Virginia, Kentucky, Tennessee, Florida, Georgia, and even California. There really is no radius of distance from Erie when it comes to selecting teams for the tournament. Driving may be preferable when it comes to traveling to an away high school sporting event, but many teams have been and still are willing to fly their squads to this tournament.
Teams are willing to travel to Erie for this tournament in large part because of how well it is organized and run. This is in large part thanks to the many volunteers from the Cathedral Prep community that spend many hours with the teams that come into town. Unique to the Burger King Classic when compared to many other tournaments is that there is someone (a volunteer) with the teams at all times to ensure their comfort and overall experience in the city is satisfactory. Cathedral Prep athletic director Mr. Flanagan told me that Westchester High School (located in Los Angeles, California), which has played in the tournament three times, has expressed profound interest in returning to Erie thanks in large part to the overall quality of how the tournament is run. I think the best indicator of this being a professionally run operation is the email from the coach of Imhotep Charter, last year's tournament champion, that Mr. Flanagan received and shared with me:
Mr. Flanagan,
I appreciate all your hard work and effort in organizing the Burger King Classic. Everything was first class!!! I've been asked by a few friend's already, and it brings joy to talk about the experience. If you ever want us back, we are there! Early or late invite, does not matter. We have been traveling since 2003. Have been all over. The Burger King Classic is the best tournament I have had the pleasure to participate in. The organization, Coach Heath, quality of competition, and the atmosphere of the games, all first class. Thanks again for your work. My team will always remember the experience.
Andre Noble
In addition to being exceptionally run, the tournament, as we all know, brings great teams as well as NCAA Division I talent to the Erie area. This is no easy task, as teams must be chosen for the tournament over a year in advance, hence much forecasting and speculation must be put into deciding which teams will feature such talent and overall quality in one or two years. Those in charge of selecting the teams have done an exceptional job. Famous alumni of the tournament include great basketball players like Chris Webber, Metta World Peace (then known as Ron Artest), Roy Hibbert, Kemba Walker, Dexter Strickland, as well as Heisman trophy winner Desmond Howard.
The players in this year's Classic again bring great talent to the area. There are seven players in the tournament with offers from major division one colleges, as well as three of the top 15 juniors in the country and a few other players likely to receive division one offers. Essentially, the number of future division one athletes could be in the double digits. Schools that are looking at and have given offers to some of the players that will come to Erie include Duke, Kansas, Marquette, Michigan State, Ohio State, Wisconsin, DePaul, Florida State, Virginia Tech, UConn, Indiana, UCLA, Kentucky, Syracuse, Villanova, and Temple. These  are all powerhouse schools in powerful conferences that every year make a run for the tournament and, in some cases, the national title.
For Cathedral Prep, the tournament is certainly a wonderful experience and opportunity.  Coaches always speak of the excellent opportunity for their teams to improve that playing opponents greater than their team provides, and while the Ramblers certainly aren't a squad to be taken lightly, there is no doubt that, in order to be competitive, they will have to play up to their opponents this weekend. Make no mistake, though, Coach Majewski always has his men come out and play to win.
The only question that remains then, is as follows: Which of the four Catholic high schools will have God on their side this weekend?
In the first game St. Rita's Mustangs face St. Joseph's Vikings. When using the term "mustang," one can be referring to two things: an American feral horse or an automobile of flashy parts and high speeds distributed by Ford Motor Companies. When referring to a Viking, one is usually referring to a pirate of the 11th century from the Scandinavian part of the world, though sometimes it conjures up images of football players from Minnesota. Either way, we associate with the term beards, axes, and helmets with horns. I have no doubt that, had horses been present in such places like Norway and Sweden, Vikings would have had no trouble in their domestication of the creatures, or driving of the fast cars. Additionally, St. Joseph was the father figure of our Lord Jesus. The advantage here is clear: Villa-Angela St. Joseph advances.


In the second game Archbishop Carroll's Patriots go up against Cathedral Prep's Ramblers.  Archbishop Carroll is the top ranked team in Pennsylvania and the ninth ranked team in the country (per MaxPreps), not to mention Archbishop John Carroll was the first bishop in the United States, founded Georgetown, and had a part in the construction of the first cathedral in the United States. Apologies to my fellow classmates, but I just don't see an upset taking place here.
So, let's say Villa-Angela St. Joseph and Archbishop John Carroll find themselves squaring off at 8:30 on Saturday night, who takes home the 31st Classic title? Patriots over Vikings. America. Always.
On a more serious and final note though, if Archbishop Carroll—regardless of who they play in the championship—led by Kansas, Kentucky, and Arizona recruit junior Derrick Jones, does not take the title, I'll be very surprised.
Despite the heavy favorite in Archbishop Carroll, the tournament promises to provide the Erie area with plenty of high quality action on the hardwood. Get out and support the Ramblers, or just get out and enjoy some of the best high school basketball in the country. Either way, if you don't, you're missing something special and one of the greatest traditions that takes place in the Erie area.