Chef Cirillo and Prep cafeteria staff continue to put students first despite NSL program changes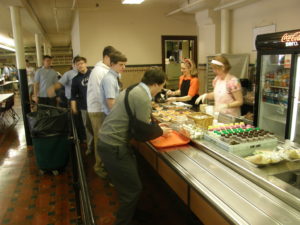 Wheat noodles or regular noodles? Vegetables or a chocolate chip cookie? A bag of chips or cup of fruit? One is a side dish head chef Mr. Frank Cirillo would love to serve at lunch and the other is required by the National School Lunch (NSL) program. Cathedral Prep is one of many high schools across the nation involved in this program which requires schools to meet certain needs in order to obtain free and reduced lunches.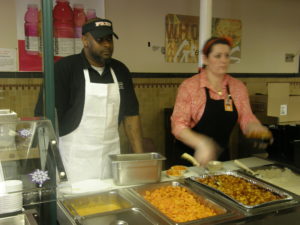 The National School Lunch program is the cause for many of the changes that have occurred in the cafeteria this year. One of these changes, which students may or may not be aware of, is the addition of whole grain substances. Side dishes such as the macaroni and cheese, as well main entrees like pizza and goulash have gone whole grain this year. For some meals it is a true game changer, but for the most part students likely haven't noticed.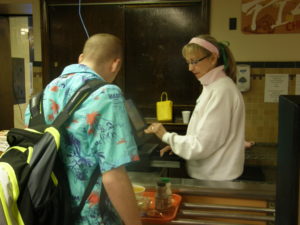 Other small additions to the weekly lunch rotation include fruit cups and various vegetables. Not as a way to upset students and force healthy food down their throats, but to meet the new requirements for the NSL program. Many students likely noticed the auditor in the cafeteria last month. It was her job to make sure Mr. Cirillo and the cafeteria staff were following all of these new requirements.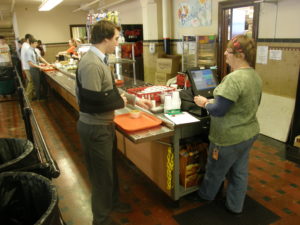 There was also a misconception in some of the changes, particularly concerned with the email he sent to students the other day. He originally said that students would only be able to get their beloved donuts once in a while, but he stands corrected, and the donuts will make a comeback for everyday availability. If students are not glad about this because they fear it means the end of the breakfast pizza, fear not because they've been selling well enough to stick around as well.
Even though Chef Cirillo has to follow new requirements, he does what he can to give back to the Prep students. For instance, he is always giving the students a healthier portion than that which is required by the NSL. One example is chicken tender day. The requirement is to only give students four chicken tenders, but instead he gives us each five. When asked about his generosity all he had to say was, "I don't want to see anybody eat and leave hungry."
Although lunch prices may seem high, students have nothing to complain about. Over the past 20 years, Chef Cirillo has only raised the price of an everyday lunch special from $2 to $3. That is only a one dollar increase, which is truthfully not even his fault. The school insists on getting a profit from lunches, and in order to do that they need to raise prices. However, Cirillo refuses to raise any prices, because he understands that lunch is already expensive enough, and if the prices were to go up anymore, students would be forced to consider alternative options such as not buying as often or at all.
Even though there have been some changes in our cafeteria, they are minor and most students really can't tell the difference. The lunch prices don't look like they will be going up in the foreseeable future either, which is something spectacular considering how much more expensive the recent changes have cost Mr. Cirillo. As long as "Fetta Friday" isn't tampered with, there is really no reason to complain about these other small switches.