Halloween through the ages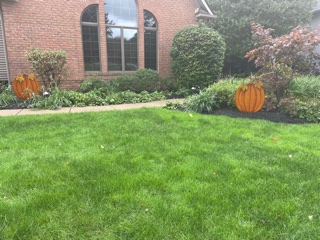 While Halloween is now known as a night for people of all ages to dress up in costumes and go searching for the best candy, Halloween has actually taken on many different forms over the centuries.
According to History.com, Halloween's origins can be traced back to an ancient Celtic festival over 2,000 years ago. At this festival, the Celtics would light massive bonfires and wear costumes for the purpose of warding off ghosts and spirits on Nov. 1. They thought that these spirits were the reason their crops would fail during the winter, so they did everything they could to ward them off. The people also burned crops in the bonfires as a sacrifice to the spirits. 
When the Roman Empire had conquered a vast majority of the Celtic territory by 43 A.D., two festivals of their own ended up being combined with the Celtic bonfire celebration.
The first festival was Feralia, which was a day in late October where the passing of the dead was commemorated. The second festival was a day to honor the goddess of fruit and trees, otherwise known as Pomona. Pomona's symbol is an apple, and so this is where the bobbing for apples tradition can be stemmed from.
By 609 A.D., Catholicism was on the rise, and Pope Boniface IV dedicated the Pantheon monument in Rome to Christian martyrs. The Catholic feast of All Martyrs Day was therefore established on May 13, 609 A.D. This day was later changed to All Saints' Day, and it was moved to Nov. 1 by Pope Gregory III. 
As stated on Britannica.com, the night before All Saints' Day was called All Hallows Eve. This night eventually turned into what is now known as Halloween, and this is where the classic traditions from the original Celtic festivals began to evolve into more modern versions. 
Halloween finally came to America once different beliefs of Europeans and American Indians started to mesh. The first celebrations included "play parties," where all the neighbors in a community would share stories of the dead, dance, and sing.
After 1850, America became flooded with new immigrants from all over the world. All these new immigrants, especially the Irish, helped to popularize the nationwide celebration of Halloween. Trick-or-treating slowly began to be popularized as well during this time when Americans would dress up in silly costumes and go to different houses asking for food or money. 
As written on History.com, the tradition of avoiding black cats has its roots in the Middle Ages. Many people during that time believed that witches avoided detection by morphing themselves into black cats, and this belief slowly spread throughout the rest of the world.  
At Villa Maria Academy, Halloween traditions just like these are still going strong.
Theology teacher Mr. Bell really enjoys what Villa does for Halloween. He loves the dress down right before the holiday, and he loves the creativity students have for their costumes. 
"My all-time favorite costumes that have been done at Villa are when students dressed up as Mr. Strasser or when students dressed up in group costumes," Mr. Bell said. "One year I dressed up as a manilla envelope. I was rather impressed with myself that year."
Algebra and Science teacher Mrs. Deau also looks forward to the traditions Villa does for Halloween.
"We have had costume contests that were judged during lunch," Mrs. Deau said. "The other tradition we have had is having the MTA students come to trick-or-treat. It was fun seeing little ones dressed up." 
She also mentioned that her favorite costumes she has seen at Villa were when a student dressed up as a washing mashing and when a group of students dressed up like the Sandlot gang. 
No matter what century it was in or which religion it was under, Halloween has brought entire communities together into a unified celebration. It has given happy memories to generations upon generations, and it will hopefully continue to expand and improve upon itself for centuries to come.