Wakeem Page's highlight goes viral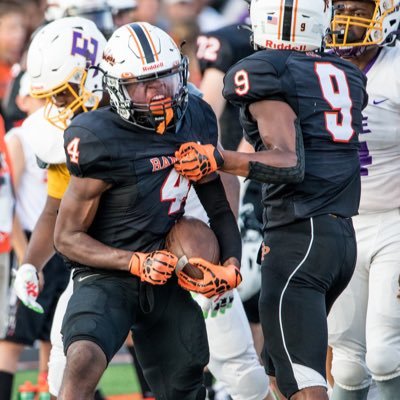 A historic highlight was made during Prep's football win against Meadville. Prep junior Wakeem Page made a defensive play that will be talked about for years to come.
"In the moment, it just felt like a regular play, but once I got to the sideline I realized how big of a play I just made," Wakeem said. 
Wakeem's highlight went viral immediately after it happened. Days following this historic play, Wakeem received millions of views and followers, which led to him being featured on multiple news platforms, social media platforms, and even TV. More specifically, his highlight was shown on SportsCenter. Wakeem was even showcased on the ESPN show, Jalen and Jacoby, where they called his play the "best defensive play of the year." 
Coach Mischler didn't even get to see this unbelievable play until he saw it on film.
"I didn't watch it [live]," he said. "I was talking with an offensive player about the previous series and had my back turned. I heard the roar of the team and the crowd and looked up to see him running into the end zone. I heard the coaches screaming repeatedly what happened into the headset. Not until I saw film did I have a true understanding of what happened." 
Seeing the play on a screen is one thing, but watching it from the sideline can give someone a much more vivid experience. Caden Pustelak, Team Captain and Center, had a great view of this play from the sideline.
"It was definitely the craziest play I've ever seen in my football career," Caden said. "From the sideline all we saw was the ball get snapped, the line fighting each other, and Page running out of the play with the ball, and the sideline went crazy." 
The skill that went into this highlight play shows just how unique of a player Wakeem is.
"Wakeem is an explosive athlete who has made big play after big play this season," Coach Mischler said. "Let's just say that an average athlete would have no chance at making the same play if he had timed it out similarly."
Wakeem's strengths and abilities were showcased perfectly on this highlight. This highlight showed people the attributes he has as a player.
"He is an explosive player," Coach Mischler said. "I think the play emphasized how quick off the ball he can be and his overall speed into the end zone was illustrated as well."
"He can take coaching and adapt to changes on the spot," Caden said.
Wakeem has a very bright future not only for his high school career but beyond that. As a junior Wakeem, is proving that this Prep football team has a bright future when this year's seniors graduate.
"He will continue to get better," Coach Mischler said. "He needs to understand that was a once in a lifetime play he made so that he doesn't try to force another situation like it. He just needs to play within the framework of our system which is what allowed him to make that play.
"The team knows he's very talented, and if he keeps up the grind, with time he'll have an amazing senior year," Caden said.
As more and more colleges look at Wakeem and see this highlight, they will see how he is as a player as a whole.
Colleges won't only look at this highlight, though; they will look at all of them and see what Wakeem can bring to a team talent-wise and attitude-wise.
"This highlight might get colleges to take a look, but it will be his overall, consistent play, character, and athleticism that will earn him scholarships at the collegiate level," Coach Mischler said.
Like Coach Mischler said, Wakeem's character, overall play, attitude, and ability to watch and study film will take him to the next level of play. Even Wakeem himself said that he's "dedicated to the film room," which allows him to enhance his skills from game to game. 
The coaching staff at Prep has given Wakeem an amazing opportunity by taking him under his wing and making him the amazing player he is today and in the future.
"The coaches put time into making sure they make the right calls and put us in the right positions to win games and make plays," Wakeem said.
In this game specifically, though, the defensive coach was out which made it harder for him to coach, but he persevered and coached from home.
"Coach Wayne Bradford was on the shelf that week due to COVID-19," Coach Mischler said. "He put our base front and coverages in from home. However, the coaching credit and call goes to Coach Jeff Brzezinski who installed that specific blitz 15 minutes before the bus left for Meadville. He saw something on film versus a specific formation they ran and asked me if he could put it in. He was the defensive coordinator that night. The play doesn't happen without Coach Brzezinski putting in that blitz. He did a great Job by teaching Wakeem the execution on the play."
Wakeem has proven himself time and time again that he is a threat on both sides of the ball. As a whole, Wakeem will be a key player in bright future of this Prep football team.
"I'm really proud of Page for what he has shown us so far," Caden said. "The work he has put in has really shown, and I hope he keeps it up for an even brighter future. Roll Ramblers!"