Entrepreneurship students showcase ideas at Shark Tank 2023
Shark Tank is a great way for students exploring entrepreneurship to express their own personal ideas for products and for them to be broadcasted on a bigger stage. At Cathedral Prep,  Shark Tank is an event that allows for students to create their own product and broadcast it to some of their friends at school and for some local entrepreneurs to see what the students have to offer. This year's event paved the way for a great future in the events yet to come and helped to inspire the students involved in entrepreneurship as a future life choice.
This year, Shark Tank being held in the auditorium at Cathedral Prep, allowed for many more students to show up and watch their friends show off their idea for a product. Shark Tank was able to bring in a great audience from the student body and brought in many local entrepreneurs from the city of Erie that had connections to Cathedral Prep in the past and or present. With all the people filling the seats of the auditorium, it helped the stage become even more grand than years past when the event was held in the library.
In watching the event, there was a clear showing of all the hard work and dedication that all the students participating in Shark Tank put into their products and the advertising of them. In a great diversity of different sports products and many different customizable items from phone cases to clothing, the students participating showed off their great minds in creating their own companies and products. The effort paid off in the end, creating a great event and being able to show off their own products.
When coming into this years Shark Tank, Mr. Bhatti, Entrepreneurship teacher, credited a lot of what made this year's candidates and event special to the versatility of the internet.
"We are in an age where you can do anything with the internet," Mr. Bhatti said.
When it came to making this year special, Mr. Bhatti explained to me in great detail the real world experience it brings to the students and how it helps to focus more on it. In years to come, Mr. Bhatti hopes for more tangible and service-related projects, similar to businesses like landscaping and involving more trades within Shark Tank.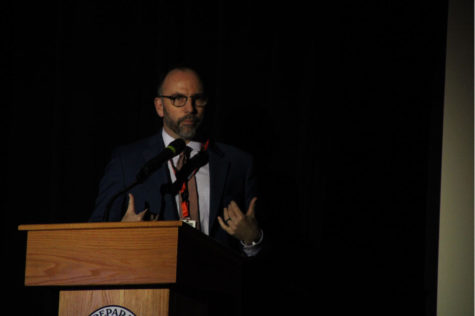 The merging of Prep and Villa allowed for former Villa students to also take part in some of the fun of Shark Tank. Student Council member Kyan Synder-Mills told me that there was no event at Villa that was similar to Shark Tank and how the merger itself opened opportunities for both former Prep and Villa students. Kyan had a lot more to say about why she thinks Shark Tank was special this year.
Kyan believed that the pitch decks given by the nominees were a key component in making this years Shark Tank one of the best it's been, and said the items given to the judges helped to elevate the stakes a bit higher. Kyan also helped to move the location of the event from the library to the auditorium and showed high praise for judges involved.
"Being in the auditorium added more of a show feeling," Kyan said. "Also, the judges made it more competitive."
This year, Shark Tank was made into a great success and an interesting event for those who were able to watch, whether it be a student, teacher, or judge. Shark Tank at Cathedral Prep continues to get better and better from year to year and this year there was no stopping it from being great. Shark Tank has a bright future here at Prep and will continue to shine as bright as the minds of all those who participate.