Students and faculty share their Christmas traditions
With Christmas right around the corner, Cathedral Prep students and faculty shared some of their Christmas traditions, demonstrating just how broad of a range Christmas celebrations can have.
When people think of interesting or unusual Christmas traditions, the first thing that probably comes to mind is either the Christmas Pickle or White Elephant. While it is true that numerous Cathedral Prep students participate in traditions that are considered to be more mainstream, the vast majority have their own unique family traditions.
This is most certainly true in the case of the Allegretto household. Freshman Anthony Allegretto describes the bulk of his Christmas experience taking place on Christmas Eve rather than on Christmas Day. On the Eve, the whole family attends Mass at Our Lady of Mount Carmel. From there, they all go back to exchange the bulk of their gifts. This is something that has been taking place since I was a child, and has remained a tradition ever since. On Christmas morning, we all go over to Anthony's house to enjoy the rest of the day.
A more strange tradition that started when I was a kid comes from my grandfather. My grandfather had always been very close with all of his grandkids and thought of unique ways to engage with us. So, he created this superhero persona that he called, "Superhero Papa-man." One day, he started putting in our Christmas tree this action figure that looked eerily similar to him, and told us all that Superhero Papa-man is "watching" us. It is not unlike elf on the shelf.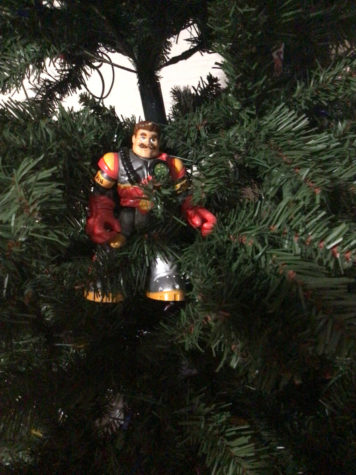 Other families' traditions are more tethered to cultural values which they uphold.
In the cases of seniors Chris Morphy and Sophia Cuzzola, they both participate in a tradition called Wigilia. Wigilia is a tradition which involves abstaining from meat on Christmas Eve. For Chris, his family eats a lot of pierogis, while Sophia and her family eat seven different kinds of fish!
Senior Cecilia Campbell has a different food-related Christmas tradition, which her family calls the Christmas Wafer. According to her, these wafers are not too different from that of communion wafers. Cecelia's family also exchanges all of their gifts at her grandmother's house on Christmas Eve. Her family also incorporates a few jokes into their festivities, as her father will go around the house and wrap up ordinary things that they already have. Possibly the funniest tradition that they have is that they re-gift a pair of "ugly" earrings that no one wants every single year.
By far one of the most unique sets of Christmas traditions is held by Mr. Biebel. While growing up, Christmas for his family was mainly just a gathering. People didn't often exchange gifts, the holiday was just a time for his family to do the things that they liked with one another. Mr. Biebel did, however, begin implementing new traditions for his own children. Every day following Christmas, he gives his kids one big present every day for a few days, some of which he creates himself.
These are just a few of the traditions that the students and faculty members at Prep hold. While these all were interesting in one way or another, it would be remiss not to mention that spending time in the presence of Christ with your family is the greatest gift one could receive.