Alumni Profile: Jessie Hubert ('05)
Mrs. Jessie Hubert graduated from Villa Maria Academy in 2005, and while she is the wife of Cathedral Prep English and Journalism teacher Mr. Hubert, she is also so much more. She is a mother of three, a spiritually driven woman, and an inspiration to all those around her.
Mrs. Hubert grew up on the east side of Erie, Pa., in Lawrence Park with younger sister Abby, who is a member of Villa Maria Academy's class of 2007. Mrs. Hubert attended Iroquois Public School up until her seventh grade year, went to Saint George for her eighth grade year, and luckily for her, knew that Villa was where she was meant to go to high school from a very young age.
"I was going to Villa open houses in fifth and sixth grade; I was that excited," Mrs. Hubert said. "The girls that I knew in my life who were older than me who went to Villa had such a sense of presence in the room. They were strong, smart, fun, and had commanding energy. I felt like I wanted to be surrounded by people who would foster me growing into my fullest self, and Villa would give me that."
For Mrs. Hubert, the one memory that encapsulates her favorite thing about Villa is her Mary's Day experience.
"There's something about the egalitarian aspect of it that makes it so wonderful," Mrs. Hubert said. "It didn't matter what social groups you were a part of, who was friends with whom, or who you were close to or not. Everyone took it very seriously to write messages of love and care to everybody. Even teachers would get involved. There was an equality across age and experience and every friend group. It was so unifying."
Mrs. Hubert feels that Mary's Day is the main thing that left an impact on her from her years at Villa, and she was even crowned May Queen during her senior year.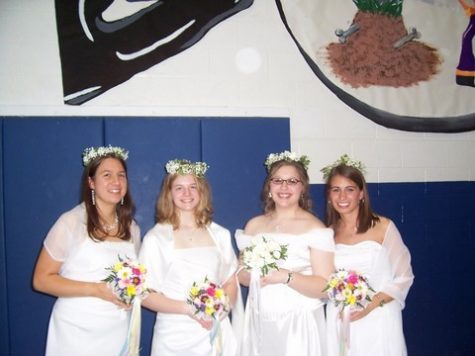 "Mary's Day left such a deep imprint on my heart for how I still try and live in the world today," Mrs. Hubert said. "I try to extend that kind of care and compassion to everyone who crosses my path."
In addition to Mary's Day having an effect on her, Mrs. Walker's English class and other theology classes allowed Mrs. Hubert to start dreaming of who she was meant to become. During her time at Villa, she was very drawn to a career in music therapy.
"I realized that there is something about being a creative person, music, community, and healing that was true for me," Mrs. Hubert said.
On top of this foundational discovery, Mrs. Hubert actually met her future husband during her years in high school. He was the bagger and she was the cashier at their local Giant Eagle and she remembers the experience very vividly.
"I remember being in eighth period at Villa and, our cell phones didn't text at the time, but I had access to a computer," Mrs. Hubert said. "I would text him when I knew that he was working on a carts shift and would be grumpily pushing carts outside. I would text him and say things like, 'I'll be at work soon!' It was very funny."
Mr. Hubert would even write her letters on paper towels in the maintenance closet during his break.
"I would write him back on receipt tape from the register," Mrs. Hubert said.
Mr. and Mrs. Hubert met when she was a junior, and they began dating shortly after she graduated from Villa.
After her senior year, Mrs. Hubert attended Allegheny College with a major in English and a minor in Social Justice Studies. At the time, the minor was called Values, Ethics, and Social Action.
"I was so secure in my identity in who I was, the gifts of my brain, my commitment to service, and my desire to explore my faith," Mrs. Hubert said. "Those are things that were all fostered during my Villa experience and became really foundational to who I was. I was able to move into college as the girls that I looked up to in fifth grade. I grew into one of those young women myself."
Mrs. Hubert ended up honing into her skills of organizational health, leadership development, and building a healthy culture through working in higher education after college. She worked in that field for 10 years and has recently moved her skills into the Catholic Church. She now works at Sacred Heart Church as the Director of Parish Community Engagement.
"My husband and I really found our home and community at Sacred Heart," Mrs. Hubert said. "There is a true sense of everyone coming as they are. It is now my job to build on that culture and bring in inter-generational experiences for young families and people on the margins. It has been really good work."
One of Mrs. Hubert's most prized aspects about herself is the fact that she is a mother. Her and Mr. Hubert have three children. Their son Benjamin is 7, Maxwell is 4, and their daughter Rosemary is 2.
"A fun fact about me is that, during one summer in college, I thought about becoming a Sister of Saint Joseph," Mrs. Hubert said. "I was still dating Mr. Hubert at the time, but I spent a summer living with nuns in Kansas. I did service with them, we worked on the border of Texas and Mexico, I lived in a convent for six weeks, and it was crazy. I came home grateful for the experience, but I remained hungry for the community of a family. I think God always planted that on my heart."
While Mrs. Hubert is infinitely grateful for her life as a mom, the experience has been complicated.
"As with any of our identities, the things that make life interesting are those points of intersectionality," Mrs. Hubert said. "The fact that I am a mom and a working professional, and I am a spouse, etc. There are so many aspects to who I am. It can really feel like a lot sometimes, and I think that is where my spirituality comes into play. I have had to rely a lot on who I am in my core."
Mrs. Hubert feels that throughout different seasons in her life she has felt more focused on her career, and others where she feels that the most important thing she can do is spend time with her children.
"There was a period of time when I struggled with postpartum depression," Mrs. Hubert said. "I think it is important to de-stigmatize those things. I now am so grateful that my work in ministry has helped my life become a witness for my job. Now I am in this beautiful surreal moment where my motherhood and family life helps to force me to work out how to raise my kids in a church that is beautiful, complicated, and sometimes painful. What I do as a human and as a mom is also what I do for a job, and I am called to help people explore what being a young family in the Catholic Church means to them." 
Because of Mrs. Hubert's pride in being a Villa Victor, as well as Mr. Hubert's pride in being a Rambler and working at Cathedral Prep, she is actively involved with the merging of campuses. She even took part in the "Coffee and Conversation" reception that President Kevin Smith put on back in November. It was there that she could make her opinions heard, and she is very happy with the direction that Cathedral Prep is going.
"I have been really impressed with the current administration of Cathedral Prep," Mrs. Hubert said. "I get the sense that they truly value the process of honoring the living legacy of the Sisters of Saint Joseph and the particular gifts of women. I feel confident and excited to help the school flourish into its next season."
For Mrs. Hubert's future, she feels that her journey through this world is incredibly focused on her spiritually.
"For me, spiritual direction, going to therapy, and understanding what is true in my heart is really what will make me the most loving, generous, and joyful person I can be," Mrs. Hubert said. "My goal for my future is and will continue to be interior work so that I can keep showing up as the person God made me to be, even if that catches other people by surprise."