Alumni Profile: Geoff Meyer ('02)
The Cathedral Prep alumni base is known for its far reaching and supportive nature, not only after but also during their time at Prep. Throughout each student's four years the environment that surrounds them helps to grow them in maturity and as people of vision in spirit, mind, and body. This is exemplified by none other than Geoff Meyer, class of 2002.
Geoff had an impressive high school career participating in soccer all four years, and also racking up 27 college credits through AP classes, which would later help him graduate from college in three years. While his time at Prep was filled with success the decision for him to attend was not always easy.
"The reason I chose to go to Prep was honestly because of athletics," Meyer said. "Both of my siblings went to Fairview, but since I had a relationship with the coach at Prep and also many of my club teammates were attending, I decided to attend Prep to help better my soccer career."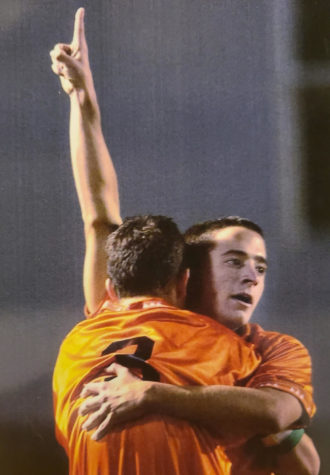 This decision would later be one of his best decisions. In 2001, his senior year, Cathedral Prep won their only men's state championship in soccer. In that game Meyer was able to score the goal which would help settle the game.
"When we were freshmen, we set a goal to win states, and we were determined not only during the season but also in the offseason to improve ourselves," Meyer said. "When you set a goal that is that ambitious, for it to come true, especially senior year was special."
While winning states is an amazing accomplishment many of his other interactions at Prep got him to where he is today.
"The atmosphere at Prep is like no other," Meyer said. "Getting to hang out with the guys every day helped form lifelong friendships that I still keep today. The community of alumni after you graduate is also something that you are really challenged to find elsewhere."
Not only the community was strong at Prep but also the faculty shaped Meyer during and after his time at Prep.
"My favorite class was English with Mr. Scharrer," Meyer said. "One activity I distinctly remember is writing our vocabulary words in sentences, which we got pretty creative with every week. While English with Mr. Scharrer was something I remember, I pretty much enjoyed all my classes."
After his time at Prep, Meyer went on to play soccer at Bryant University in Rhode Island. As mentioned earlier his time at Prep helped him graduate a year early, giving him a head start in finding a career.
"I am currently a business analyst for Sirius XM," Meyer said. "I found the job while working at a different company and have been with Sirius for 14 years now."
A career may be one of the most important aspects of someone's life but activities they do outside of their job are important too. Meyer does many things outside his career to enjoy life but also help others.
"One hobby I really enjoy is golfing," he said. "I try to play four or five times a week during the summer. When I lived in Virginia I was even able to win a pretty high level tournament."
Golf is not the only hobby Geoff participates in; he also enjoys traveling.
"The best trip I have ever been on was going to Brazil in 2014," Meyer said. "I went during the World Cup, which was a crazy environment to be a part of at the time. I was able to go to three games during the group stage, all of which were enjoyable."
A way in which Meyer is giving back to Prep is coaching. As a great player back in his time he was recently asked to come back and be an assistant for the soccer team.
"When [head soccer coach] Sam Tojaga asked me to join the staff I thought it would be fun," Meyer said. "I think it is awesome that I can hopefully help the next generation grow into better players and hopefully accomplish the goal of a state championship I was able to achieve."
Overall, Meyer has been able to use the skills and experiences he attained from Cathedral Preparatory School to become successful in his life. He stills enjoys the everyday things such as golfing and coaching while maintaining a career. One of these reasons he is able to balance everything is because of what he learned at Cathedral Prep. He maintains that Prep is still the best school in the area and hopes that the students understand the opportunity they have been given.
"Some advice I have for current students is to cherish your time at Prep," Meyer said. "You will meet friends for life and also remember the small things, such as pep rallies or fun things in class. Those are memories you will cherish for a lifetime."