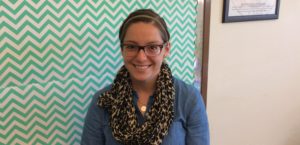 Ms. Lion is the new 10th grade English and 11th grade English teacher, replacing the retired Mr. Scharrer. Originally from the Erie area, Ms. Lion is glad to return to the area after teaching in Virginia for a period of time. She dubbed Virginia too hot and returned to Erie for a teaching position here at Cathedral Prep. She is the oldest of three siblings with a younger brother in college and a younger sister as a senior in high school.
In her free time Ms. Lion enjoys gardening, reading, and especially traveling. She has studied abroad in Ireland, the Czech Republic, Paris, and especially Rome. She is a devout Catholic frequenting the Vatican during her time in Rome and listening to the morning readings of the Pope.  She also believes that as a society we have a dependence on technology but that it isn't necessarily a bad thing, and that some things need to be physical such as books and other documents.
Interviews from students of Ms. Lion's had a lot to say about her and her class. Students have been quoted saying that she is a kind hearted individual with a devotion to her students. Students have also said that she is a hard worker who wants her students to succeed and is not afraid to push them to do so. All in all this year Cathedral Prep has gotten a plethora of great new teachers, and Ms. Emily Lion is another choice teacher for this new school year.