Alumni Profile: Dave Roach ('07)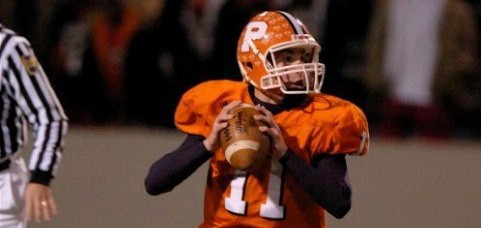 Dave Roach is a Cathedral Prep alum from the class of 2007. Dave attended Blessed Sacrament Grade School, which was only a few blocks away from his home. He then attended Prep for all four years where he played football and ran track. He also kept himself busy with many clubs and activities.
Dave got off to a quick start with his career and is now employed at Eriez Magnetics. During high school, he met Kerry Hersch, a graduate from the class of 2007 at Villa Maria Academy and they are now married. So far, Dave is off to a great start, and much of it can be attributed to his high school experience at Prep.
The halls of Cathedral Prep will never be forgotten by anyone who has graduated from there. When asked why he went to Prep, Dave replied, "Why would I go anywhere else?" Many things about Prep are similar, but each person has their own favorite. Dave made a clear statement that the people and the brotherhood were his most cherished things at Prep. He got to meet a lot of people and is still very connected with many of his good friends from his class.
Dave also had many other favorites throughout his time at Prep. Out of all the lunches that Chef Frank Cirillo cooked up, Dave's favorite meal was the beefy nachos. Also, when I asked Dave who his favorite teachers were at Prep, he voted for Mr. Czytuck and Mr. Achille, but he had a tough time picking favorites because of all the great teachers that he had. Dave made many great memories with his friends and there is not much he would change. If he could change one thing, he said,"I would have played a few more sports at the school. You only get high school once and you've got to make the most of it."
Faith also made a very big impact on Dave's time at Prep. Attending a Catholic grade school, Dave already had faith integrated into his life. Cathedral Prep helped him further his faith even more, and he still practices and strengthens it today. When asked the best thing Prep taught him, he replied "The best thing Prep taught me was faith. It is the first and foremost thing in your life." He added that Prep helped him get a closer relationship with God, and it has helped him become a better person.
Like most graduates from Prep, Dave cherishes the time that was spent studying, playing sports, and building relationships with other people. He spent some of his most memorable moments at Prep and continues to support Prep with all of the other busy things going on in his life. Dave's brothers Barry ('03) and Jeff ('08) also graduated from Prep. Dave said that if he has children of his own one day, he will definitely send them to Cathedral Prep.