Michigan and Ohio State set to meet in Big Ten rivalry game on Sunday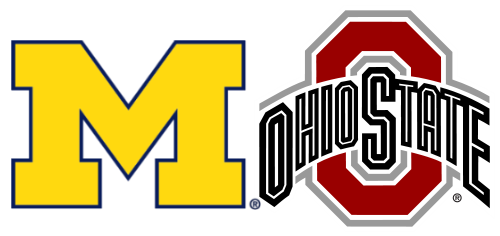 The Ohio State Buckeyes and Michigan Wolverines basketball teams face off this Sunday, Feb. 22. They will face off at the Crisler Center in Ann Arbor, Michigan. Ohio State leads the basketball rivalry between with 87 wins and 70 losses. When they both were ranked they played six games; Ohio State won four times and Michigan won twice. The average game in the rivalry is Ohio State 62 and Michigan 61.
Some of the best Ohio State vs. Michigan basketball games occurred in the early 1990s. In 1989, as Michigan marched to a national championship, the Wolverines defeated the Buckeyes twice, 99-73, and 89-72. In 1960, Ohio State won the national championship, and along the way beat Michigan 99-62.
In 2002 the Buckeyes beat Michigan three times. Then Michigan won the next three, but after that Ohio State won the next six. The Ohio State vs. Michigan basketball rivalry doesn't get nearly the attention the football rivalry does, but it is still very intense. It has had many historic meetings and deserves more recognition. The players take it seriously as do the fans of the two rival schools.
Ohio State has a freshman, D'Angelo Russell, who plays point guard who leads the team in scoring with 19.1 points per game and rebounds per game with 5.8. Michigan's leading scorer was have Caris LeVert with 14.9 points per game, but he is out for the season with a foot injury. Michigan has Zak Irvin who is trying to step up  and fill in for LeVert, Irvin is the second leading scorer for the Wolverines with 13.5 points per game. The team has also been without sophomore point guard Derrick Walton Jr. for the past several games who also can shoot from the perimeter.
Michigan has struggled early on the season, especially after losing LeVert. Michigan lost games against New Jersey Institute of Technology and Eastern Michigan in non-conference play. They also got blown out at Ohio State, but they played one of the worst basketball games of their season. As of late, however, Michigan has been playing better basketball, even though they haven't gotten the results that coach John Beilein would like.
Michigan has lost their last 5 games against Big Ten opponents. Michigan is definitely not a tournament team this year, and they are fighting for a spot in the NIT, so they need to win this big game. On the other hand, Ohio State has had a pretty good season behind freshman of the year candidate, D'Angelo Russell. They won games against Maryland and Indiana, but they also lost tough games too against Louisville and North Carolina. Our prediction is a close game in Ann Arbor, but Ohio State is a much better basketball team and will win 76-67.