Updated 2015 Rambler Bracket Challenge standings entering Sweet 16
The 2015 NCAA Men's Basketball March Madness Tournament started two weeks ago, and the madness began right away. There have already been multiple upsets with 10-seed Ohio State beating, 7-seed VCU, 11-seed UCLA winning over 6-seed SMU, 11-seed Dayton winning over 6-seed Providence. Additionally, two 14 seeds, Georgia St. and UAB beat a pair of 3 seeds, Baylor and Iowa State, respectively. And all of that happened in the round of 64.
The third round or Round of 32 went more according to form with only two real upsets, while two 7th-seeded teams, Wichita St. And Michigan St, were victorious over 2nd-seeded Kansas and Virginia, respectively.
After these first few of rounds, no brackets have been left unscathed. Not only are there no perfect brackets left in the 2015 Rambler Bracket Challenge, but also there are no perfect brackets left among the millions of entries turned in on ESPN.
In terms of The Rambler's contest, sophomore Kyle Carter sits atop the leaderboard with 500 points, having made only 10 incorrect picks. He has Gonzaga as his tournament winner. Close behind Kyle, tied for second place, with 470 points are sophomore Nick Hardner, who has Arizona winning it all, and senior Niklas Bitters, who has Kentucky.
At the bottom of the standings is sophomore Andrew Haverly. His strategy of using a random number generator proved unsuccessful as he is the only participant still under 200 points with only 190 through the end of Sunday's games. And just barely ahead of him are three staff members of The Rambler, senior Daniel Bauman with 290 points, junior Joe Sala with 300, and senior Oliver Wiesner with 320.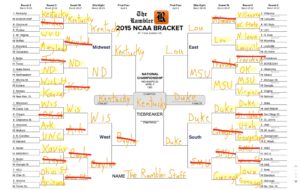 The tournament resumes with Sweet 16 games on Thursday and Friday and the Elite 8 on Saturday and Sunday. Let's see how the rest of the tournament plays out, and the madness it can create.
Check below for a full breakdown of the current Rambler Bracket Challenge standings:
| | | |
| --- | --- | --- |
| First Name | Last Name | Total Points |
| Kyle | Carter | 500 |
| Niklas | Bitters | 470 |
| Nick | Hardner | 470 |
| Jed | Bartos | 460 |
| Matt | Conrad | 460 |
| Muhamed | Pehlic | 460 |
| Peter | Bloomstine | 450 |
| Keegan | Farver | 450 |
| Maurice | House | 450 |
| Joshua | Kovalcin | 450 |
| Kyle | Martin | 450 |
| Rory | Monahan | 450 |
| Mr. | Parsons | 450 |
| Robby | Quinn | 450 |
| Thomas | Rosenthal | 450 |
| Daniel | Serafin | 450 |
| Austin | Bovee | 440 |
| Philip | Cammarata | 440 |
| Kyle | Carman | 430 |
| Eli | Chase | 430 |
| Jonathan | Szymczek | 430 |
| Matt | Fessler | 420 |
| Mark | Leone | 420 |
| Mark | Majewski | 420 |
| Luke | Baloga | 410 |
| Josh | Heberlein | 410 |
| Mrs. | Kim | 410 |
| Chris | Muldrew | 410 |
| Noah | Noble | 410 |
| Tino | Scutella | 410 |
| Justin | Whitman | 410 |
| Chad | Zaczyk | 410 |
| Mr. | Colwell | 400 |
| Nathan | Serafin | 400 |
| Brian | Buseck | 390 |
| Bryan | Carlson | 390 |
| John | Ogeka | 390 |
| Tyler | Smith | 390 |
| Albert | Taylor | 390 |
| Kevin | Bello | 380 |
| Zarek | Causgrove | 380 |
| Noah | Nicolia | 380 |
| Edward | Ruff III | 380 |
| Doug | Spizarny | 380 |
| Dillon | Elliott | 370 |
| Mr. | Hubert | 370 |
| Jack | Kelly | 370 |
| Jared | Ordos | 370 |
| Jack | Zaphiris | 370 |
| Ryan | Dyne | 350 |
| Ryan | Misko | 350 |
| Sean | Reed | 340 |
| Ryan | Signorino | 340 |
| Oliver | Wiesner | 320 |
| Joe | Sala | 300 |
| Daniel | Bauman | 290 |
| Andrew | Haverly | 190 |