Going for the Sweep: Junior hopes for fourth straight class president win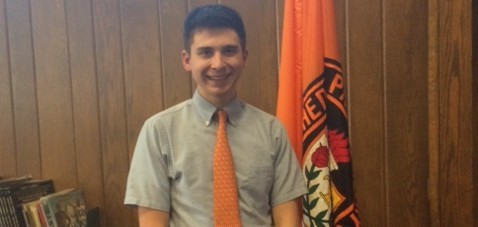 As the school year comes to a close, the senior class has begun to prepare for the next chapter in their lives. Meanwhile, the juniors, sophomores, and freshman are doing their best to finish the year strong and get ready for the next year at Prep. This is a big step for the junior class as they will become seniors and partake in one of the best years of their lives. The end of junior year is a hectic time, with finals, senior pictures, and making selections for class president. For one junior, class president has become very important, as he has led his class the past three years and wants to ensure that his class finishes off their time at Prep strongly.
Brendan Flanagan says that he did not plan to run for president of the freshman class three years ago. The day before the sign-in sheets were due, however, a group of students from his grade school approached him about running with them and being the president. He said he had thought about running but did not think he had the right characteristics. Yet he ran anyway because of his friends asking him to do so.
Fast forward three years, and Flanagan has become an integral part of his class. In addition to being class president he is also an NHS co-president and the class coordinator for Spirit, Mind, and Body Day. Over the course of his three-year presidency, he has overseen at least one large fundraiser for his class per year. Freshman year, as is tradition at Prep, there was a sub sale; sophomore year the class sold coupon books that can be used around the Erie area; and junior year Flanagan has sold T-shirts and had a dress down for March Madness to raise money.
When asked why people should vote for him to be the senior class president, Flanagan said he believed himself to be the best qualified member of the class due to being president the past three years. "I think my ideas are good and I can keep the class moving in the right direction," he said. He also added that while others in the class might also be qualified, he feels like he is the best option due to his ideas and his ability to get along with everyone else in the class.
Flanagan said that he has not heard of anyone else planning on running against him, but that there could very well be competition. If people do, he thinks he will still have a decent chance of winning because the people that have voted for him the past three years will continue to vote for him. However, he said it is not a 100 percent certainty that he will win.
If he were to win the election, Flanagan said that a major goal would be getting a class trip for the class of 2016 since the 2015 graduating class does not have one. In addition, he wants to try to make graduation costs, such as prom tickets, as cheap as possible—maybe even free.
Whether he wins or not, Flanagan says that his goal for the class in their senior year to is have everyone have a sense of camaraderie and get to along with everyone. In addition, he wants everyone to be successful in their final year at Prep and to continue that success after Prep, whether that is going off to college or joining the workforce. He is incredibly proud of what he has done for his class and for Prep, and hopes that he and his class will have a fantastic senior year.