Preparations had been going on for the weeks and months prior, and on April 25 the stage was finally set for Prep and Villa's premier fundraising event for the school year: the Legacy Gala. At this year's gala, "The Possible Dream," over 550 attendees gathered at the Bayfront Convention Center. In addition to the usual auctions that raise funds for the school, this year's Gala had another special event. The Cathedral Prep Event Center, or CPEC, received a new name, and the new gym and aquatics center were dedicated.



During the evening, it was announced that what was formerly called the CPEC would now be known as the Prep & Villa Events Center (PVEC). In addition, the new gym and aquatics center were given names. The gym at PVEC will now be known as the Joann Mullen Gymnasium, and the aquatics center will be known as the David M. Hallman III Aquatics Center.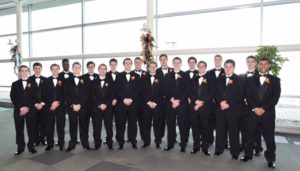 Amy Oldach, the Special Events Manager for Prep and Villa, who organized the event, explained the night's events. There were two auctions during the night. The first was a silent auction. After the initial auction, there was a ceremony for the inductees into the President's Hall of Fame. This year's inductees were Dorothy Brei Marsh '50 and Debbie Uht '82 from Villa Maria Academy and James Ertl '68 and Fr. John Detisch '80 from Cathedral Prep. Once the induction ceremony was completed, the live auction began.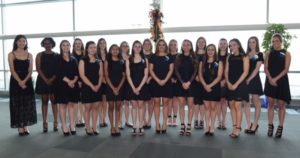 Ms. Oldach highlighted some of the big-ticket items in the live auction, including the first shot and first dive at the new PVEC, which sold for $1,300 and $3,000 respectively; a luxury box at the PVEC, selling for $15,000; a two year lease on a 2015 Ford Fusion SE, sold for $6,000; and finally, two sets of two tickets to the Friday, Saturday or Sunday round of the 2016 Masters, which sold for a whopping $13,000 each, totaling $26,000.
In total, the event raised over $460,000. Ms. Oldach says that all the money raised goes towards tuition assistance in order to make Prep and Villa more affordable for families. Overall, Ms. Oldach called the event a huge success. She especially wanted to thank the donors. "None of this would have been made possible without the gracious donors of the Prep and Villa community," she said. On behalf of all the students at both Prep and Villa, I'd also like to thank the donors, as they make becoming a part of the family of the school more accessible. Thanks again, and we look forward to next year's Legacy Gala!