Digital textbooks trending up
Textbooks have always been a staple in the lives of high school students, but through the past few years, one would notice that these books are slowly being phased out and replaced with digital devices. From iPads to laptops to tablets, everything is beginning to change.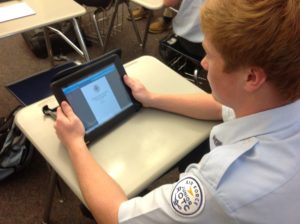 High schools have provided textbooks to their students for quite a long time. With textbook pages numbering in the hundreds if not thousands for each subject, all the students backpacks were weighed to the ground. But what changes are happening through these transitions into the digital world? Studies have shown that there are no changes in test scores of those students who use print books as opposed to digital books.
The digitizing of the content is saving schools money by not forcing them to replace books when they become damaged. Although a licensing fee with the company that wrote the textbooks is required, saving the content and giving it to each students device is cheaper for the schools to register for the content. The only negative side is that the printers of these books have lost some business.
The reaction of the students has been overall positive all around. Students have reported that they prefer the digital content much more, compared to the textbooks, as their book bags have been much lighter. "It's the small things that count," has been a regular statement from various students around Cathedral Prep. Changes like these only make us wonder how things will continue to develop in the future for "modern" school lives.