Dr. Jerry Clark speaks to Prep forensic science class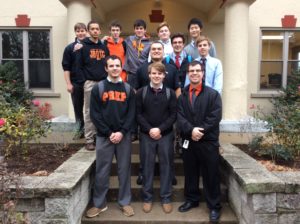 On Monday, Dec. 14, the Cathedral Prep forensic science honors class took a trip to nearby Gannon University, where they were able to experience the field of forensic science. The trip was arranged and supervised by Mr. Wahlmark, a Prep science teacher. The trip lasted approximately two hours and was at no cost for the students.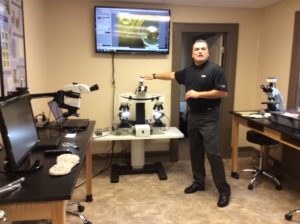 The students on the trip got to experience the real atmosphere of forensic science. Their host and presenter was a retired FBI agent, Dr. Clark, who is currently a professor at Gannon and a Prep alum. He holds many degrees and experience under his belt, and he brought an incredible amount of enthusiasm to the presentation. The presentation started out with his introduction and continued to his primary account of the Pizza Bomber case. Initially a four-hour presentation, due to its complexity and never-ending interesting details, it was chopped down to about an hour. Even then, the students were very engaged and interacted with Dr. Clark to narrow in on the most important details of the case.
The Pizza Bomber, otherwise known as Collar Bomber, happened right here in Erie. Dr. Clark also brought in some of his own colleagues, also retired special agents, to provide more background details. Details included tracking down a suspect based off of the misspelling of three words; the suspect was given a paragraph to write down which had nothing to do with the case but contained three words that were misspelled in a taunting letter sent to the agents. Another detail, which discredited the accuracy of TV shows, was that it takes at least 12 hours for a warrant to be approved to search a house, even for a high-profile case. The last detail was provided by the special agent who stated that going in a house with a warrant and a shoot-off in the middle of nowhere were the two most dangerous things any law that any law enforcer goes through.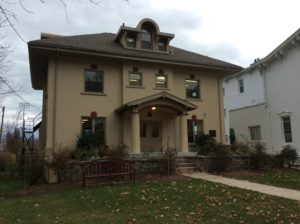 To end the day, one of Dr. Clark's colleagues walked the students through a police training simulator that prepared trainees about when to and not to shoot. This, to the participating students, seemed the perfect way to end the day. They were tested in a scenario in which they have their non-functional guns drawn and ready to decide if to shoot and not shoot. That is when they learned that a police officer goes through three stages in which he or she confronts conflict: verbal commands, hands-on or use of pepper spray or taser, and use of lethal weapons such as guns.
Mr. Wahlmark came across the idea of planning the trip when some the parents mentioned Dr. Clark and his experience in the field. That sparked the idea in which he contacted the office and got the approval to do the trip. "It was fairly easy to organize it because it did not cost anything, and it was a very close trip to Gannon," said Mr. Wahlmark. His expectations were positive, as it was his first field trip. He thought it through and made sure that the students were in and out in time. The feedback was very positive. "The students told me what they liked on the way back, [and] the professors seemed very enthusiastic," said Mr. Wahlmark. "Students asked brilliant questions and had great answers to the questions they were asked."
Noah Lesik, a Prep senior that went on the trip had a great experience. "[I] got to learn new things about the pizza bomber case that I did not know of," Lesik said. This also gave Mr. Wahlmark some great ideas to add to his class.