Senior staff writer earns first place in Northwestern Pennsylvania High School Journalism Competition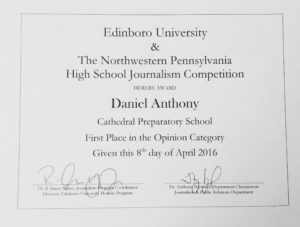 Recently the staff of The Rambler entered several of their articles from the 2015 calendar year to the annual Northwestern Pennsylvania High School Journalism Competition hosted by Edinboro University. The competition presents awards to individuals in four categories: News, Features, Sports, and Opinion. Senior staff writer Dan Anthony received the coveted honor of first place in the opinion category, receiving the award for his article titled "A Review of Fiji Water."
The journalism program at Cathedral Prep has grown steadily over the past four years. While the quality of writing continues to improve, The Rambler has continued to find itself shut out of the state and local awards categories until now. Dan is the first staff writer of The Rambler to win an individual award. In his article Anthony expressed his highest regard towards the "wondrous gift of nature" Fiji Water. Such an article could not go unnoticed in the Cathedral Prep community, sparking a response article from senior Michael Buzas arguing Voss Water's case as the best drinking water. Dan commented that he "most definitely" takes this award as recognition of a win in the heated argument.
Dan was presented a certificate of recognition as well as a $100 check. "I think they sell gallons of Fiji water I might be able to afford," Dan said, in regards to his plans with the money. Although Dan was not anticipating winning he "lit up like a candle" when Mr. Hubert announced his award. "I was having an awful day, so it really turned my frown upside down," Dan shared.
Journalism teacher and advisor for The Rambler Mr. Hubert spoke highly of Dan's achievement. "Dan has been a prolific writer this year, and I was really proud that his hard work paid off," he said. "We've had a lot of good writers over the years, and I hope his recognition is the first of many more to come."
While Dan became the first individual Rambler writer to be honored, The Rambler has been recognized collectively in the past, earning third place recognition in the Website category of Edinboro's contest in both 2014 and 2015. The website also received an honorable mention from the 2015 Student Keystone Press Awards.
In addition to Dan's achievement, senior staff writer Brendan Jubulis earned fifth place recognition in the print sports category for his Fantasy Football: Week 5 Sit/Start article.