Prep defeats McDowell in public debate
On Thursday, May 12, Prep and McDowell held their first public debate in the H. David Bowes Auditorium. Starting at 7:30 p.m. the two teams started the structured debate on the question "Should the United States federal government further regulate money spent on elections?" Prep was assigned the negative argument while McDowell took the affirmative.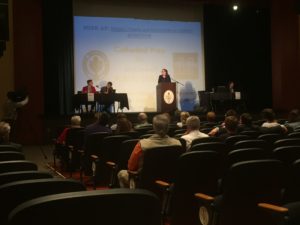 The Cathedral Prep team of Douglas Spizarny and William Lewis have had four years experience as partners, so they were ready for the challenge. Last year in the state tournament the duo took third place. The McDowell team also presented quite a talented and experienced team, consisting of a state champion in the Lincoln Douglas Debate and a state finalist in extemporaneous speaking.
On the affirmative side, McDowell argued many points, including a free, fair, competitive competition. Prep stood by the Constitution, arguing for candidates' freedom of speech, while also including court cases which ruled regulated elections illegal. From the strong points, cross examinations, and strong conclusions from both teams, nobody in the auditorium could have guessed a definite winner.
The judges for the debate, former Mayor Rick Filippi and State Senate candidate Dan Laughlin unanimously chose Prep as the winner.

When asked for a statement, Will Lewis commented "The debate was a tremendously successful event. From the crowd, to the substance, to the media coverage, we couldn't have asked for more. Yes, we won, which is a plus, but we just wanted to spread the values of high school debate, and show what exactly we do, and I think we did a pretty good job at that on Thursday."