A Boy of Summer, Prayers for Ian Malesiewski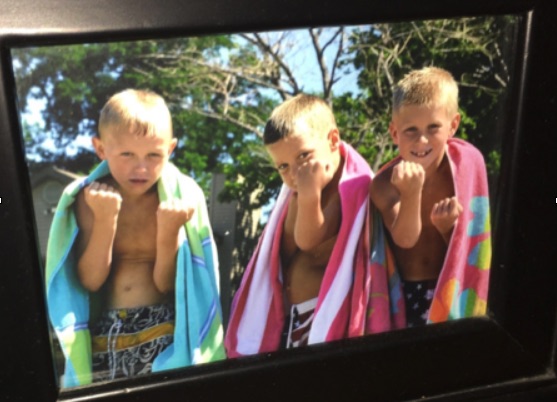 Sunset Beach Road in North East, Pa., isn't the most popular of neighborhoods. In fact, throughout the entirety of the year there are only about three houses that live year round. Snuggled right up against Lake Erie, we may not have the largest number of inhabitants, but we've got the best sunset in the world, and the area—although not opulent by any stretch of the imagination—is exclusive. It beams of beauty, as do the hearts and minds of the people who live there. I grew up here. Originally I spent my summers at my cottage along the lake, but my family moved down to the lake permanently in 2013, which was perfect because I got to move in, right next door to my two best friends, Adam and Ian Malesiewski.
I knew these two ruffians my entire life. I was born in June of 1998, Adam in June of 1999, and Ian in April of 2000, and their cousin Cooper (who basically lived at the beach as well) was born in March of 1997. New kid after new kid. It seemed like the Baby Boomer period decided to come back for a while! What went from a quiet road that did indeed have some kids on it, my older siblings included, was about to go to a neighborhood dominated by the newly born. And boy was it.
Growing up we did everything together, Adam, Ian, and I. I would wake up at 8:00 every morning and sprint over to their house. It took five seconds; I know because I timed myself. That was how excited I was to see them. To see these guys. To see Adam! To see Ian! Ian had always had the first room out of the two, so he was always the one I woke up first. He wasn't always as ecstatic at me waking him up in the morning as I was to see him, but after twenty or so minutes and a few eggs in the system, the day would be ours.
In the multitude of sports we played, which ranged from football, basketball, dodgeball, wiffleball, and handball, teams consisted of Adam and Cousin Cooper, and then Ian and I. Three out of four of us were skinny tikes, but quick. Ian though ate just a little bit more. There was a reason why he wrestled at 160 pounds in fifth grade! In these games I was what one may call a "game-manager." My job: get Ian the ball in the post, or behind the arc. Bunt the ball to get Ian back up to bat. Hand or lateral pass to Ian. I wasn't that much of a flashy player, but you know what? I was fine with that. Because not only did we win quite a few this way, but I knew, and still know, that that kid would go to hell and back for me in any situation. Any situation regardless if I was in the right or in the wrong, I knew that I had the loyalty of Ian in my corner.
I remember the days the sun glistening off of the flat water, the sounds of running kids filling Halli Reid Park (named after his mom), and us swimming in the lake. Paddle boarding hundreds upon hundreds of yards from shore. Sitting watching the sun set down into the water. Of course Ian, being the stronger one usually got home quicker or out into the water quicker, but once out there it seemed time stopped. It was like we didn't have a care in a world, Ian, Adam, Cooper, and I, sitting, talking, and occasionally splashing! In recent years a lot of conversation became talking about football and wrestling. I was the careful listener hearing about the ins and the outs of Prep sports I had not been a member of. I listened to how badly he had wanted to beat McDowell. But who doesn't, right? But Ian's drive and passion are quite different than that of others.
In everything that Ian wants to accomplish in his life, family or sports, he wants to give it his best. He truly wants to be all he can be. Whether it consists of him working out constantly, dedicating his time and energy to perfecting his craft or whether it is attending Cathedral Prep. Ian bleeds orange and black more than anybody I know. Not only in his sports, but for the school as a whole. Cheering at the basketball games, doing his vicarious Pterodactyl noise that was deafening to opponents and also people in the section too. But we love it! He and his brother worked hard to get to Prep, and they don't show up a minute later than 7:30 to school. I would know because when I wake up to go to the bathroom, I see the FIAT scurrying down the street.
Or his dedication to his family. On face value Ian looks like a one man wrecking machine, which he is. No one, and I mean no one is crossing him. But those who know him closely know he is a sentimental fellow who loves his cat Sunny, his brother, his cousins, his aunt, uncle, and his mother and father. One of the scenes I won't forget, especially because I see it all the time, is Ian lying in bed with his mom. Or taking advice from his mom, Halli. Or watching him, Adam, and their mom sing the Rolling Stones or Jimmy Buffet on their famous patio overlooking the lake. Or learning tips from his dad TJ on lifting, or mowing the lawn, or how to fix the car. Or having a push up contest with his aunt Sara. He's a family man.
Before we became "Prep Boys", we were known as "THE Boys." Or "the Posse." They had to put in a "CAUTION CHILDREN AT PLAY" sign up for us! Mostly for Ian. We are boys of summer, always outside making some interesting decision. I mean just last August we thought it was a good idea to hit down a bees nest with a baseball bat, then pour gasoline on it. The summer neighbors were not big fans. I brought the water. Ian brought the baseball bat. And Adam and the newest member of "THE Boys" Alex Ruler brought the gasoline. But Ian was the person gutsiest to knock down the nest. He may have knocked down the bees nest, but Ian can't get knocked down. The kid never stops; he'll get up no matter what.
I ask all of you to dedicate prayers, thoughts and hope to this young man, this extraordinary young man whose hard work, love, and kindness has touched the lives of many.
Pray for the best for Ian. What the best is, is at this moment unclear, but regardless the best is what I ask you to pray for, because that is what he deserves.
Privacy, also is what the family asks for, and deserves. But to the whole Prep and Villa community please keep our brightest and our finest on your mind and in your heart.
Pray for someone who has a heart of gold, a mind of excellence, is the definition of what it means to be a Man of Prep, and pray for someone who I will always know as my brother, my fellow Boy of Summer.
Godspeed Ian, Godspeed.