Student Profile: Brian Stark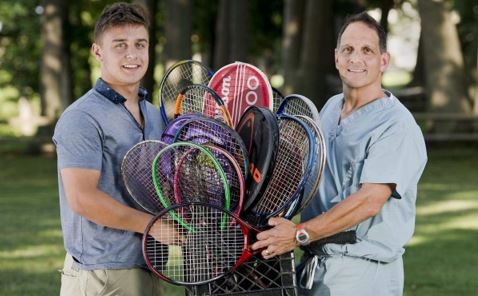 Cathedral Prep senior Brian Stark is currently in Africa. Brian, accompanied by his father and others, have traveled to Africa to the second largest refugee camp in the world. "It was brought up to me by my dad," Brian said, "and I agreed to go along on the trip."
The first part of the crew's time in Africa will be more or less vacation, although that is only for a short time period of a week or less. Then, for about two weeks they will be helping out and hanging with the refugees. One of the big things that they are doing for these refugees is getting them new tennis rackets. According to Brian, they take tennis lessons but don't have the best of rackets. So, with the help of the community, they will be taking down a lot of brand new tennis rackets for these refugees. "They dropped rackets off at my door," Brian said.
Although this trip is great for the community and the refugees, there were some questions about what Brian would do about the school work he is missing. Brian said that Prep's new principal, Mr. Smith, as well as Fr. Jabo, President of Cathedral Prep and Villa Maria Academy, are all for it. They says that they love the idea of volunteering out of the country.
Brian said that he will be doing some form of report from Africa instead of school work. Whether it is a written report, or maybe even a Skype video. This would be great for Cathedral Prep to see what the experience is like firsthand.