Student Profile: Alec Thomas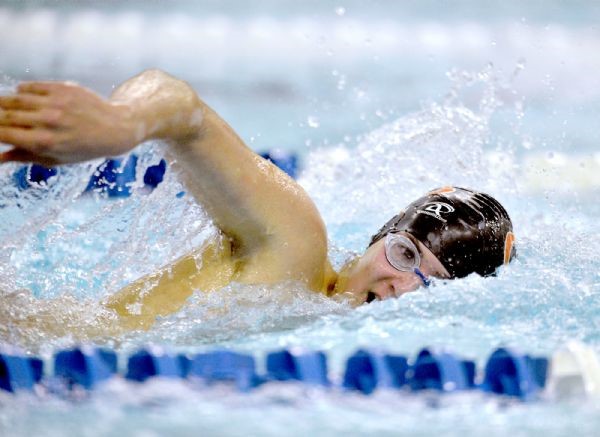 Cathedral Prep junior Alec Thomas is a multi-sport athlete, who participates in golf, swimming, and tennis. He has been swimming since he was 7 years old where he started out on the Eastside YMCA team. Then, he swam for the Ohio USA team, and he is now swimming for Prep. Alec says swimming is his top sport, and he is succeeding in it the most. When asked about why he enjoys swimming, his response was, "I like swimming because it is an individual sport. The work that a person puts into the swimming determines how that person will do in the meet."
Swimming is a unique sport. Swimming is a sport where the swimmer competes to beat their previous time(s). The athlete wants to beat his or her previous time and the other swimmers in the pool.
Cathedral Prep's swim team has been solid these past few years, as well as their individual swimmers. As a team, Prep has won District 10 for the past 14 years in a row, as well as claiming the regional titles 12 years in a row. When Alec was considering Cathedral Prep, the academic and athletic level, the brotherhood, and the success of the swim team all went into consideration. Alec also added, "I like Prep because every swimmer on the team is fast, and although we may not all be friends outside of the pool, we all cheer and support each other in the pool."
Going into high school as a freshman, Alec felt a bit nervous during the first few weeks of swim practice. His nervousness didn't stop him from winning the 500-yard relay and the 200-freestyle at districts. Winning districts as a freshman was a huge accomplishment for Alec as he began his young and promising swim career.
A funny event that happened to Alec while enjoying his favorite sport took place during the Indianapolis Quad meet.  As Alec was exiting the pool deck, he accidentally strolled into the girls locker room, changed, and walked back out without even noticing. Alec also had stepped up onto the starting block and his swim trunks decided not to fit him anymore.  The trunk ripped down right through the seams in the center of the suit.
For any swimmer who enjoys the sport, it is a dream for one to swim at the Division I level. Alec hopes to attend Virginia Tech or Duke, who both are powerhouse programs in men's swimming. Along with the swimming, Alec would like to study to become a chiropractor. Both Virginia Tech and Duke are highly regarded schools that Alec hopes to attend. They have fantastic chiropractic programs as well.
Alec is positive, hopeful, and sure that he will pursue his dreams of becoming a Division I swimmer at Virginia Tech or Duke. Alec doesn't just focus on swimming though; the academics always come first.