As the upperclassmen at Prep are aware, Prep students order and receive their class rings during junior year. This year's juniors had their first class ring meeting Tuesday, Oct. 18. The rings are a keepsake, so it's quite the unfortunate loss when a student or alumni misplaces their ring. Fortunately, Josten's offers the option to purchase a 10-year warranty and a 20-year warranty, but when purchasing a somewhat pricey piece of jewelry most teenage boys aren't too inclined to spend more money. Without the warranty, losing one's ring can be quite the bummer.
One such bummer occurred about 53 years ago to Jack Schultz when he was 18. Schultz, Cathedral Prep Class of '63, lost his class ring while throwing snowballs in a field off of Zimmerly Road with the woman who would one day become his wife. Recently, at the age of 71, Mr. Schultz received his ring back. It's not uncommon for someone to return a found class ring to Prep so Prep can help find the original owner, but Mrs. Fehr, Constituent Relations Manager for Prep, confirms that this is not an ordinary case.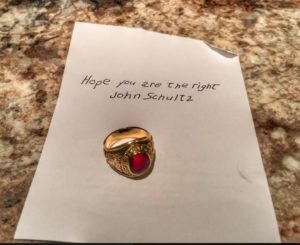 Jack Schultz's ring was returned anonymously about a month ago. It showed up in a plain brown padded envelope with a small handwritten note that only said, "Hope you are the right John Schultz." The source of the returned ring still remains a mystery. Mr. Schultz decided to take it upon himself to investigate and discover who returned his ring and how they did so. His only clues are the Fairview, Pa., postal stamp and his belief that the handwriting looks like that of an old man.
Jack spoke with the owners of the house near where he lost the ring so many years ago, and they don't seem to know anything about it. He had previously assumed that the ring had been forgotten in the snow and then stepped on or run over by a lawn mower, leaving it buried ever since. He also realizes that the ring may have been found many years ago, thrown into a drawer or jewelry box and forgotten, only to be rediscovered recently and returned.
Jack Schultz's curiosity about the ring still gnaws at him and his search for answers continues. If anyone knows anything about the ring, feel free to comment below or call Prep with any information. Certainly Mr. Schultz would appreciate it.