Seniors celebrate Taco Friday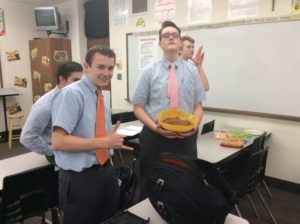 Over the past few months, Mrs. Lopez, aka Señora, has not been in her classroom due to being on maternity leave. After welcoming a healthy baby boy into the world, Señora Lopez has come back to Prep and resumed teaching her Spanish classes.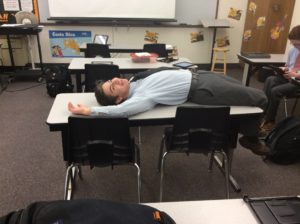 Last Friday, Jan. 20, Señora Lopez's seventh period Spanish IV class celebrated her return and the end of their semester with a fiesta. For those unfamiliar with basic Spanish, "fiesta" is Spanish for "party." For their purposes, the fiesta consisted of chicken and beef tacos, made with both hard and soft shells, and cupcakes.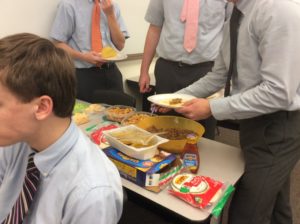 But where did this food come from? Well, Michael Ruff, employee at Larry's Central Market was in charge of the beef. "I made the beef," Mike stated when asked the origin of the beef. He then continued to say, "So I started from scratch. I took your standard sirloin tip, put it in the meat grinder, then bagged it up, took it home, seasoned it with taco seasoning, and I cooked it up."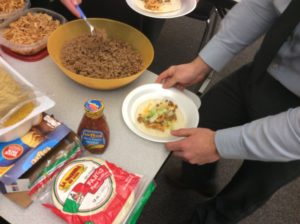 The chicken, as it turns out, is another story, and some people preferred it over the beef. In fact, senior Jacob Labonte said, "I got beef with Larry's beef." According to Mrs. Lopez "I made the pollo (chicken)."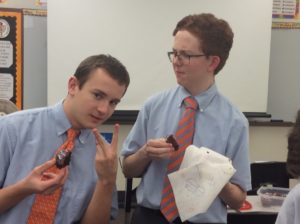 However, no taco can be complete without toppings. Senior Jacob Labonte was in charge of bringing in toppings, but he encountered some difficulty with acquiring them.
"I kinda forgot my toppings, so at lunch I had Metz help me out; James Wrigley is my hero." Apparently, Mr. Wrigley was more than willing to provides the lettuce, cheese, and other necessary toppings for a proper taco. Smiles appeared on the student's faces as they munched down on their delicious tacos of varying meats. Smelling the Spanish aroma, Dr. B. walked into the room to see if he could get his hands on a tasty soft taco. Some students, however, did not partake. When asked why he wasn't consuming a taco, senior Daniel Scutella stated "I'm in season," referring to his CYO basketball career.
After having satisfied their hunger, conversation began to drift to the discussion of other foods. Some students began to delve into taco salad. Javier Mirazek stated, "I'd eat that." All in all, taco Friday seemed like a fun and delicious end to a great Spanish IV semester.