Prep celebrates Catholic Schools Week
Attending a Catholic High School is something many Prep students take for granted. It has become routine, mainly because many of the students have attended diocesan grade schools since their early youth. It's the only thing they know. Many of us do not take time to appreciate what we have at our Catholic School, but once a year we take a week, "Catholic Schools Week," to celebrate our unique education.


The first day of Catholic Schools Week, Monday, was Teacher Appreciation Day. To celebrate the teachers of the school, students served the teachers a free lunch of salad, lasagna, and a cookie. Hopefully most of the students refrained from any shenanigans that would give their teachers a hard time.
The second day of Catholic School's Week, Tuesday, was Student Appreciation Day. Fr. Jason and Campus Ministry provided all the students with some free Dairy Queen, which was quite yummy and appreciated. Also, head chef James Wrigley introduced Prep to "$1 Pizza Day," where students could buy pizza at a dollar a slice. Some students got as many as five pieces! Students were also permitted to buy a dress down pass and a cell phone pass for $2 each, which was nice. However, some controversy arose when many Prep students who take classes at Gannon ran into some of the Villa students, who were also dressed down. The problem was that Villa did not have to pay for their dress down. It later came out that they had two dress downs this week, and both of them were free. This seems like inequality.
The third day of Catholic Schools Week, Wednesday, was a half day that included Quarter Sessions. Mr. Hertel and Mr. Brown, of Hertel and Brown Physical Therapy, were the alumni who spoke to the students this time. Many students received first and second honors cards as recognition for their academic achievements.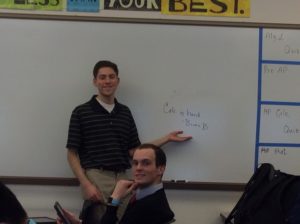 The fourth day of Catholic School's Week, Thursday, was Blazer Day and Silly Tie Day. Some students wore blazers and silly ties.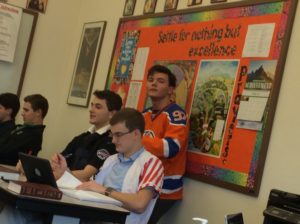 The fifth and final day of Catholic School's Week, Friday, was Jersey Day. Students were permitted to wear their school pants and a polo shirt with a jersey of their favorite team over it. The vast majority of the student body partook in this dress down. Friday was also Service Day, which consisted of all theology classes doing a service project in their period. The senior class wrote letters to soldiers. The highlight of the day, however, was the fettuccine eating contests during all three lunches. "Fetta Friday" has long been a tradition at Cathedral Prep, and cheering on one's classmates to inhale as much as they can in the given amount of time turns out to be a really good time. Senior Josh Wolf finished six bowls.
Overall, Catholic Schools Week was a nice change of pace for Prep students and faculty. The various events really made school a tad more enjoyable. Hopefully we all appreciate our unique education a little bit more now.