Three moments to remember from the 2016-2017 school year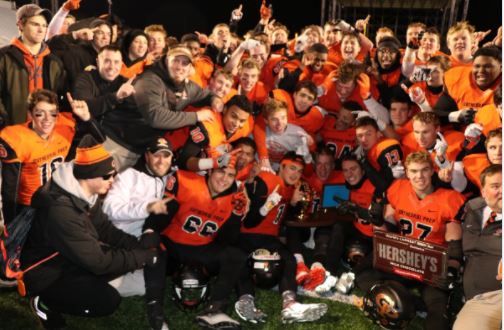 1. The Cathedral Prep Football Team wins their third state championship in comeback style. Nothing more could be said but "wow!" for what the Cathedral Prep football team did to beat the state power and huge favorite Imhotep Charter 27-20. After being down the whole game, going into the third quarter things looked bleak for the Ramblers. They were down 20-6 until an interception for a touchdown by Terry Roberts and a touchdown pass by State Player of the Year Joe Mischler to Tyler Odekoven gave the Ramblers the lead and the win. In one of the biggest moments and greatest football games in all of Cathedral Prep's long history, the football team's upset win is this school year's biggest moment.
2. The rise of #BeADog and Ian Malesiewski and James Conner's connection highlighted the year. The Cathedral Prep community and the whole Erie community was rocked and shaken when junior Ian Malesiewski injured his spinal cord and became paralyzed during a wrestling meet. During this saddening time, the Cathedral Prep community rose to the occasion by helping his family in many ways but also by spreading awareness via the #BeADog that was spread throughout all outlets of social media. This hashtag gained the attention of Pitt football player and local star James Conner who during this time was fighting cancer. Conner, who recently was drafted by the Pittsburgh Steelers, visited Ian in the hospital and during his recovery to help and just be there for him. While Ian has made many strides, the Community of Erie and everyone is rooting for him to get well soon and to #BeADog.
3. The first ever mayoral debate held at Cathedral Prep was hosted by a group of Cathedral Prep students. Members of Prep's debate team organized two debates for the Mayoral Candidates for the Republican and Democratic parties. Held in early May, the candidates went through rigorous and tough questions that were focused on the education, economy, crime and the overall well-being of the city where not only our school is located but many students and their families live. It was great to get to know the candidates and their stances better thanks to our own Cathedral Prep brothers.