Student Profile: Matt Wolf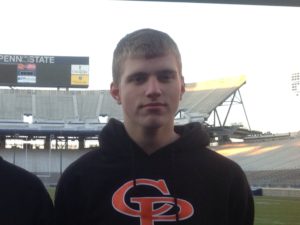 Few people can be described in one word, but Matthew Sean Wolf—male, age 17, Cathedral Prep senior, brother, son, grandson, friend, gang leader (the Wolf Pack, a freshman year fling), pal, comrade, and buddy—comes very close to fitting that mold. If I were to be assigned the task of describing Wolf aka the Wolf Man aka Wolfie aka "The Most Honest Kid I Know" (according to Mr. Burger), the word I would use to describe Matt would be "goofball."
While some may associate negative connotations with this word—someone not taking life serious enough, clumsiness, even slothness—the association I draw between Wolf and this word is one of lightheartedness and an enjoyable outlook on life. I've always known Wolf to be a guy with a great sense of humor, fully aware of his defects but embracing of them nonetheless. Matt Wolf is always one to laugh at himself and even make jokes at his own expense solely for the enjoyment of others. Wolf is a good kid that cares about all of those around him.

I met Matt Wolf when I was a freshman in Mr. Scharrer's English class. With many classes together, Wolf and I started to become friends. We hung out a little bit outside of school, too. Wolf was always someone good to have around, good for a laugh (sometimes at his expense), and a real pleasure to be with. From the time he decided it would be smart to wear sweatpants and a hoodie to go sledding to when he insisted his jump shot at the YMCA was "whet" to always wanting to bring up the fact he didn't do too well when it came to talking to the female population, I always enjoyed my time with Wolf.
Recently though, Matt Wolf has begun to mature, in some senses at least. Formerly a football and baseball player, Wolf moved on from the diamond after his sophomore year to focus solely on football. The prioritization paid off as Wolf started on the defensive line for the Ramblers. In his studies, Wolf has decided to pursue some career in the medical field. A physician's assistant job is appealing to him specifically, but he told me the MCATs and a career as a doctor aren't out of the question. Because of this, Wolf is taking AP biology this year, a course no longer by Mrs. Stosh but by Mr. Colwell, who, according to Wolf, may give too many worksheets and packets but certainly is a good teacher.
Outside of school, Wolf works at Arby's on 8th street, which seems to be a good experience for him. Recently, too, Wolf found himself a girl to call his own. When asked about whether or not the relationship would continue through college, the answer was a pretty emphatic "yes." Wolf says his girlfriend plans to attend Slippery Rock University, and he is torn between Robert Morris and Gannon. While he may be fairly successful on the gridiron here, he doesn't plan on continuing his career through college, instead anticipating to focus solely on his studies.
Attending Cathedral Prep was definitely the right choice for Wolf. The atmosphere lends itself well to his general goofiness, but the demands associated with it have definitely helped his development and maturity. As stereotypical as it may sound, he says his favorite part about the school is the brotherhood, in that he can see many of the friends he has made here being lifelong friends. Hopefully, I am one of those friends.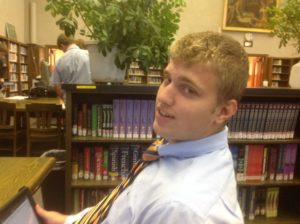 While Wolf may be at times quite a goof, the goofiness is something you come to enjoy and appreciate. Despite his generally lighthearted approach toward life, Wolf knows when to put his nose to the grindstone and get work done. According to him, our generation needs more of a focus on our work and putting out quality work, citing the fact that many students choose to try and goof off and avoid working in class for as long as possible.
Matt Wolf is a pleasure to be around, but more so than this, he's a generally caring and kindhearted person. He hopes to be remembered for always being willing to lend a helping hand and in a positive light. Undoubtedly, he will.